This photo was taken in Yellowknife last summer. As usual, Ian was my photographer. Props to him for an awesome shot!
I love to fish. I know I've mentioned that here a couple of times, but I really want to stress the point because it's one of my favourite activities. That is, of course, when the mosquitoes and black flies aren't ferocious, like they were when we tried to fish last weekend. We literally gave up on our fishing adventure before I even had a lure on my line. By the time my leader was on, I already had blood dripping out from under my hat from a vicious black fly. Don't believe me? Check out the photo on the left: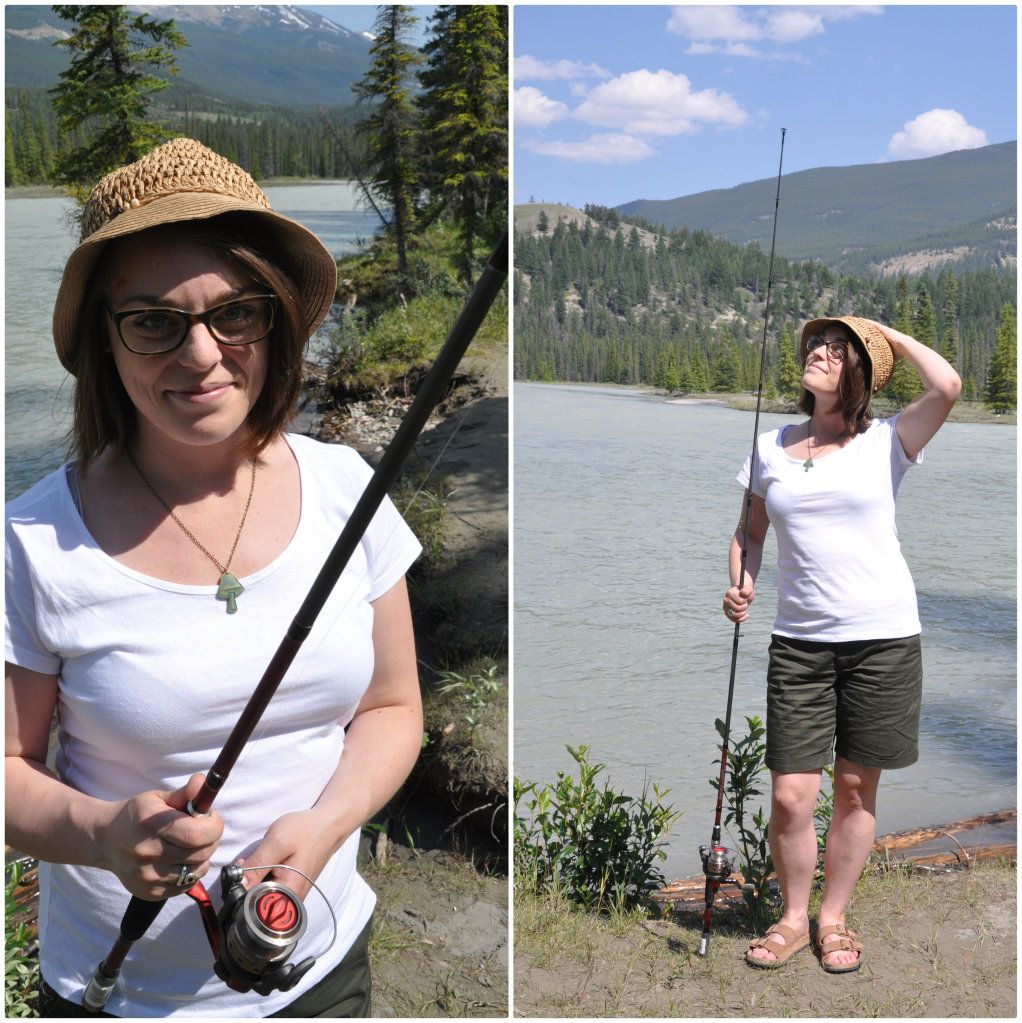 Do you see it? Gross, right? Not gross, though, is the fact that I'm wearing my
Blossom hat
in real life. That's right, I'm rockin' it without the flower. To be honest, I kind of love it as a fishing and/or swimming hat.
So, although we were getting eaten alive, I made Ian take a few quick shots of my fishing outfit, as I thought you-all might be interested to see what I wear while I'm catchin' the big one.
From top to bottom:
Hat: Thrifted
Necklace: Etsy
Shirt: Ardenes
Shorts: Thrifted
Sandals: Shoe Warehouse
Fishing rod: Canadian Tire
Basically my fishing style consists of comfortable clothes that I can move in, that way, if we decide to hike into our fishing spot, I'm prepared. I usually bring a coverup or sweater of some kind, just in case the breeze picks up off the water.

For fun and for comparison, I'm now going to show you fishing photos from last year... you know, when I had a long crazy ponytail and lived WAY up north.
No mountainsss!!! So weird.
See, fishing clothes are all about being comfy. In this case, I'm wearing thrifted jeans and my favourite hoodie.
Are you a fisherwoman? What do you wear when you're out casting?