As you all know, I just got back from an amazing Northern vacation in Yellowknife, a city North of 60 in Canada's Northwest Territories. It's a beautiful place that I totally recommend everyone visit. I lived there for a year, and I'll likely end up living out my old age there when I decide it's time to settle down and be a full-fledged adult. (I'm so not there yet!!)
Anyway, Ian and I made the journey back up North to take in Folk on the Rocks, an annual folk festival that attracts tons of Canadian bands.
Like
Said the Whale
, pictured above. I saw them perform twice, once on Friday and then again on Saturday. The Friday night show was the headliner and it was truly amazing. I danced it up right in front of the stage and even watched a dragonfly land on one of the band members' faces. It was awesome. He was totally startled, but managed to just keep singing. He's a professional after all.
Also there was
Timber Timbre
, a band I've been listening to since I was in university. They're a super sombre, haunting, mellow band that is just so freaking amazing. I literally bought my festival tickets just based on the fact that they would be there.
The big name on the lineup was Bruce Cockburn, who headlined on the main stage Saturday night. His show was awesome, as well... although I did hear from a reliable source that he is a bit of a diva. But, oh well, he is a Canadian icon. He can be as big a diva as he likes. I mean, when he sang
Wondering Where the Lions Are
, the crowd flocked to the stage to sing and dance.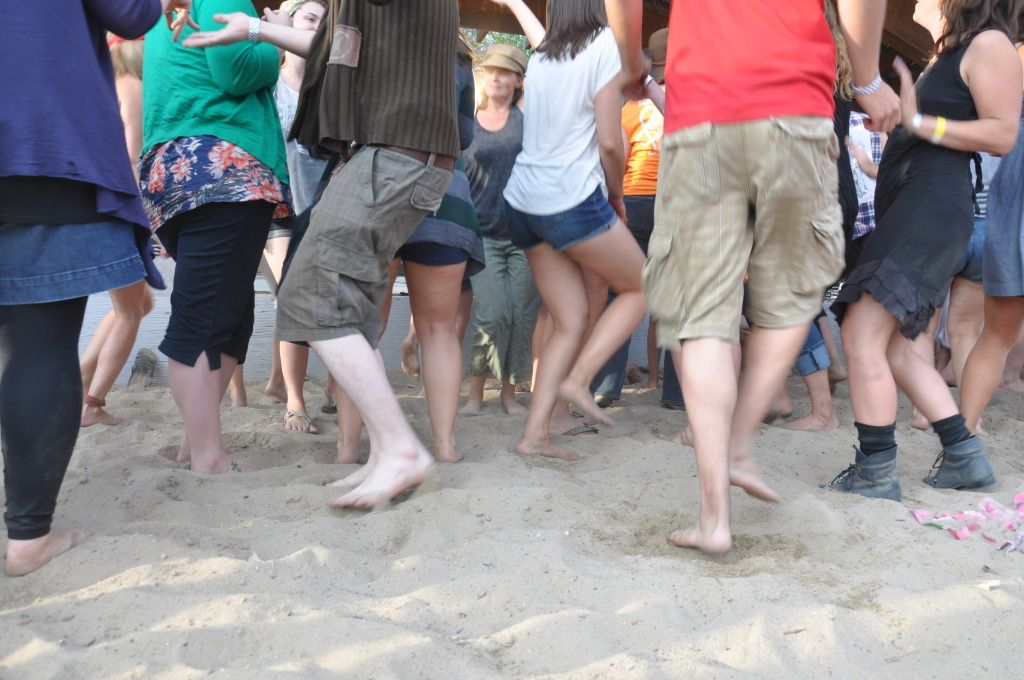 So anyway, verdict is, the festival was totally worth the trip. There were many more bands that played than I've listed here and every one of them was awesome. The three I would be remise not to mention are the
Jerry Cans
from Iqualuit,
Ohbijou
from Toronto and
Ron Sexsmith
also from Toronto. Seriously, check them out. You won't regret it.