Drum roll, please! No. Stop. That was pathetic. Try that again, and make it louder and more enthusiastic. Take inspiration from the guy in the marching band whose hat strap goes under his nose. Perfect! You got it.
Thanks, friends. That's just the kind of introduction I needed for the unveiling of the latest and greatest series you'll be finding here on Gypsy in Jasper. It's called Ladies of the Mountains. Sounds magical, right? Well, that's because it is.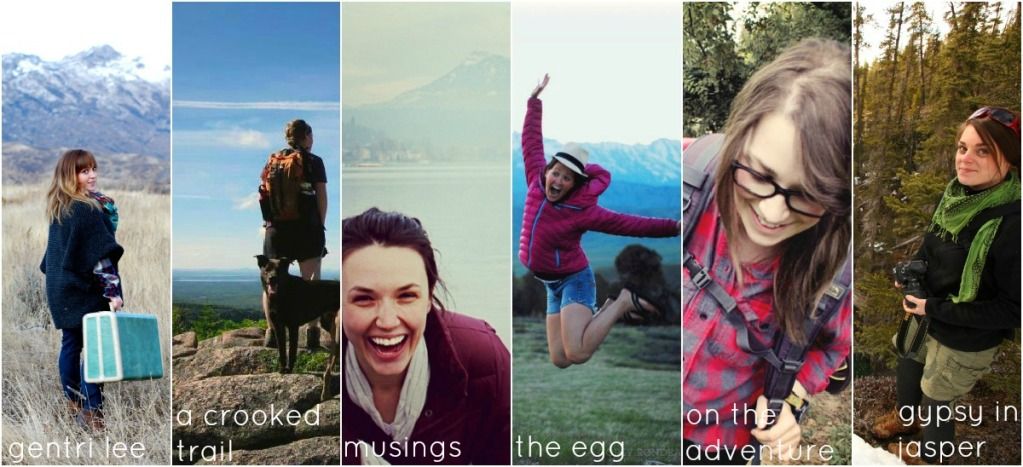 You see, every two weeks, I'll be here on the ol' blog posting about mountain related things and at the same time five other magnificent mountain mavens will be doing the same on their blogs. Who might these explorers be, you ask? Well, of course, they are Gentri of
Gentri Lee
, Lena of
Musings
, Michelle of
On The Adventure
, Meagan of
The Egg Out West
, and last, but definitely not least, Kelly of
A Crooked Trail
. Quite the lineup, eh? Aren't you excited to see what we have in store for all of you?!
For our first Ladies of the Mountains post, we present to you, outdoor wear. In my case, an outfit I wore on a little mushroom hunting adventure last weekend. If you've been paying attention, you saw some of the those photos yesterday. If not,
here's the link
. You'll wanna check them out. (Demanding, aren't I?!)
My standard outfit when I'm out in the wilderness is my little shoulder backpack, my camera, my hikers, a pair of old well-worn jeans and a cozy sweater. Often I'll also throw on a hat to protect myself from pesky ticks and the like. In this case, I risked it and came out alive. Phew!
These hikers are gold! I found them at a flea market in Yellowknife a couple years ago for $2.75. They are definitely a kick back to the 80s or early 90s, but they were already broken-in to perfectly fit my feet. I remember taking a second to hum and haw over buying them, which now has me shaking my head. They have been in heavy rotation ever since I brought them home. I don't know what I would have done without them! I honestly dread the day they start to fall apart and I have to go on the hunt for another pair.
This alpaca sweater is another thrift find. I got it here in Jasper at the local church sale that happens a couple times a week. I love wearing it for outdoor adventures because it's cute, warm and super soft. That's a triple win in my books. I'm sad to say that it's already almost too cold for it here in the mountains. I went for a hike on Tuesday night and had a frozen nose and fingers by the end. It's almost time to pull out the toques and scarves in these here parts!!
Well friends, that's all from me today. I hope you enjoyed my first Ladies of the Mountains post. We'll have our next one up Sept. 27. On that day, we'll put fashion aside and talk about our favourite hikes.
See you next time! Don't forget to check out what the other LOTM ladies wore on their outdoor adventure!