Remember how garden gnome painting was on my list of 25 things to do before I turned 26? Well, Ian and I finally got around to it... two weeks after my birthday. Better late than never, right!?
Our thrifted little men, an accordion player and a fiddle player, had literally been primed white for three months. And, they'd been sitting on a coffee table that way, looking slightly creepy, all this time. But, now, three months later, they are totally revamped. Seriously, wait until you see the before and after pictures. They are going to blow your mind. That's right, mind blowing garden gnomes are in the HOUUUUUSE.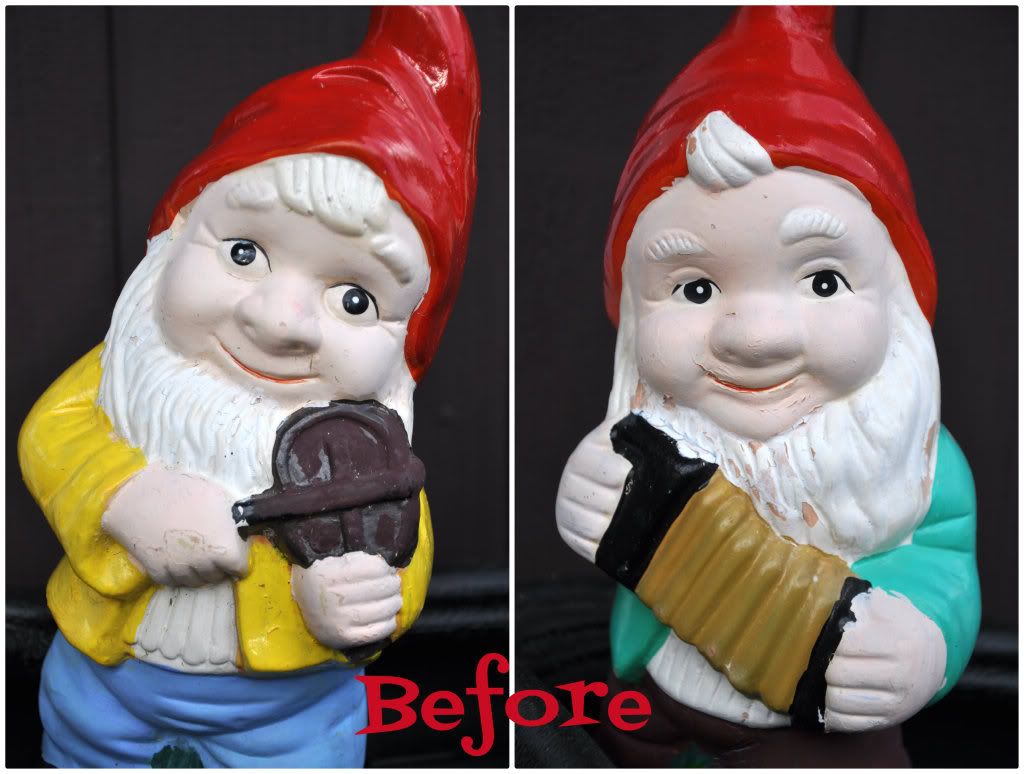 Admittedly, these guys were cute before they got a coat of paint. I mean, they're just so sweet and innocent looking. But, after, oh! after. They just look so much more us. Amiright!?
If you can't tell, the one on the left is mine and the one on the right is Ian's. Mine went from being a friendly old man to being a friendly young man, while Ian's went from being a friendly old man to a scary mariner with no eyeballs. Weird? Yes. So totally Ian. Absolutely!
I assume garden gnome painting is self explanatory, but, in case it's not, here are some pointers:
1) Spray paint the entire gnome white, making sure to use long strokes rather than concentrated sprays, so you end up with an even coat.
2) Let dry.
3) Paint however you like. (If you're into Ian's bloody mariner look, use hot glue as texture for the blood and once it's dry, paint the glue red.)
4) Spray the entire gnome with lacquer. (We haven't done this step yet. It's on my new to-do list.)
5) Display in your garden, or, in our case, on your shelf.
*In other gnome-related news, I've decided that's what I want to be for Halloween! I was totally inspired by our little painting party, so now I need to get down to business on a costume. Wish me luck!*