Is there anything better than mail? Like, seriously, is there? Because if there is, I should probably discover it so I can kick my online shopping habits. Gah! Stop me before I get off track. You see, this post is about mail and online shopping in a way, but it's also about an AMAZING woman in my life. Shall I start from the beginning and stop rambling, and possibly start making sense now?
OK. Deal. So, my pal Mel over at
Needle and Nest
sent me a package the other day and boy oh! boy did she ever give me a surprise. You see, I ordered an amazing mushroom embroidery from her shop to hang above my new workstation (did I mention I have a new stay-at-home job starting next week!?!) and when the embroidery arrived, it came with SO MUCH MORE than I could have ever imagined.
There were three individually wrapped little packages along with my gorgeous mushroom-piece. I was so surprised by the extra items that I actually squealed as I opened each little enveloped. And then, after I opened them all, I got to open a secret little note that said the doily earrings, feather necklace and button brooch were all belated birthday presents from Mel's shop!! Is that not the sweetest?
And isn't everything gorgeous!? Of course it is, right!? I mean, Mel is such a talented mama. She's always upcycling clothes and creating amazing crafts and accessories. It seems she can't go a week without creating SOMETHING! And, man, do I ever admire that. I wish I had that kind of creativity. Mine comes and goes like my love for early 2000s pop tunes. You know, like, some days I could really go for a sing-along to B44 and other days, I think those bleach blonde, fake tanned twins are absolutely revolting. Yup, that's basically my relationship with arts and crafts. Like, I seriously have a crocheted blanket that I started back in May and it's now only about a THIRD of the way done! A THIRD. But Mel, that lady, she has something new on her blog every week. It could be a Halloween costume for one of her two adorable kids, an upcyled dress or a skirt or a vest or a bag or a necklace or whatever really. That lady has crafting down.
Just look at the amazing brooch and necklace she made for me!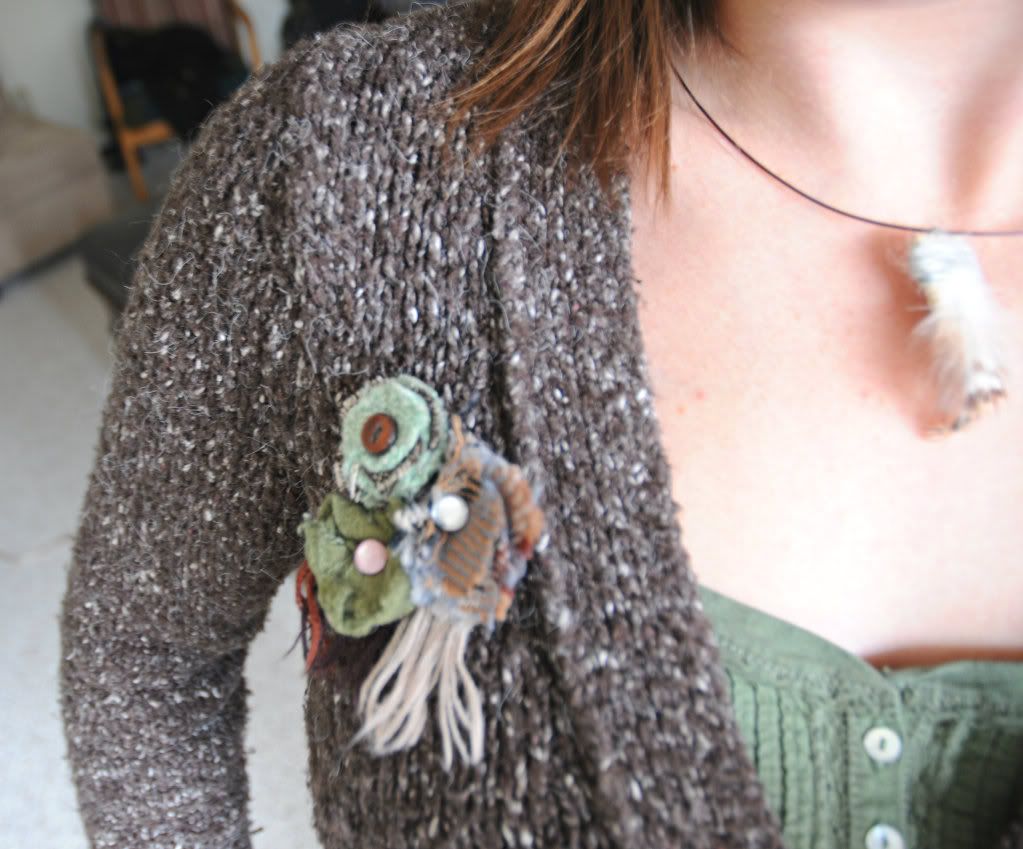 Confession time: So, I was so excited to receive my new accessories that I changed out of my orange shirt and into my green shirt, so that I could wear my gifts to work in the afternoon. Yup. I'm one of THOSE girls. I don't care, though, because it gave me an opportunity to show off all of my gorgeous new gifts.
Anyway, before I gush too much about my love for Mel and her amazing craftiness, I'm going to sign off for the day. But, first, let me tell you that because Mel is a totally rad mamacita, she is offering 15% off to Gypsy in Jasper readers. You just have to mention Sweet Gypsy when you order from
her shop
! Easy peasy, right!?
So, get on it will you!? Order yourself something pretty and let me know what you pick.
Happy Friday all. I hope you have a wicked-awesome weekend.