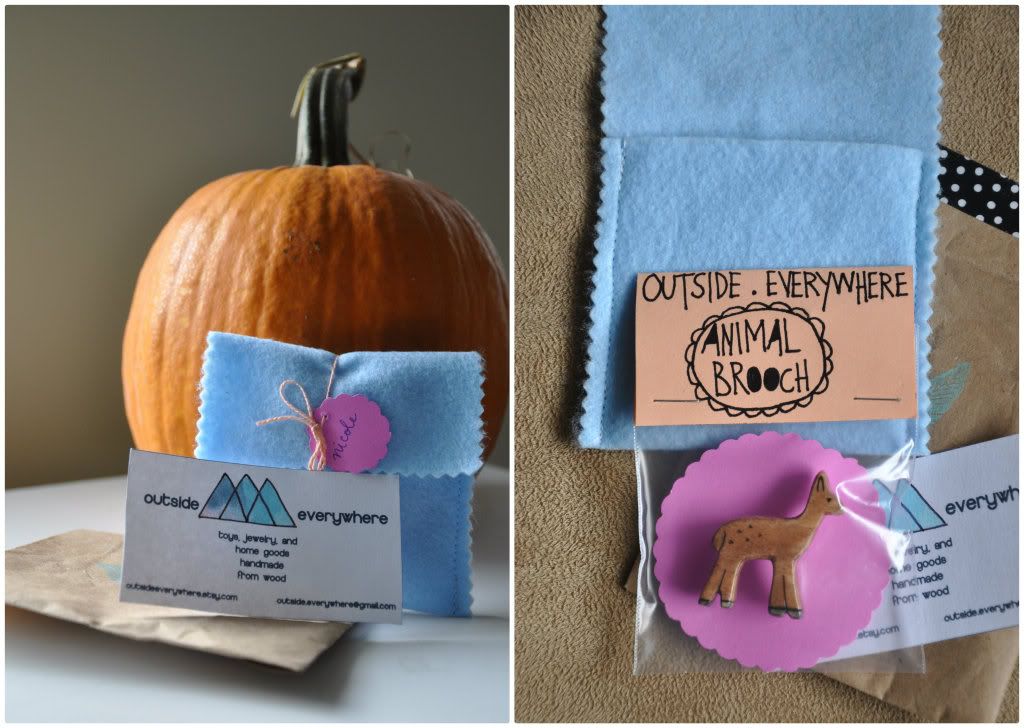 Remember on Thursday
when I talked about the amazing animal brooch I was expecting in the mail
? Well, it arrived the very next day and it is just as adorable as I expected it would be.
Hold up, though. I'm not quite ready to talk about the brooch itself. First, I want to take a second to talk about packaging. Seriously, guys, I LOVE when shop owners take the extra time to package their handmade goods in a cute and creative way. A box with drawings on it, a special ribbon, whatever, I love any small personal touch that shows the artisan took the time to think about you before they shipped off your parcel. Those added touches just add so much to the experience of getting mail.
OK, so with that off my chest, let me tell you, I wasn't disappointed when I received my wee little deer brooch from
Outside Everywhere
on Friday. There were layers and layers of adorable packaging for me to dig through. First, I opened a brown envelope with a leaf stamped on it. Then, I discovered a felt pouch tied up with my name on it. And then, I found my brooch in a little plastic bag with a handwritten tag stapled to the top. No joke, with each layer, I grew more and more excited, and then when I found my brooch, I was bouncing off the walls.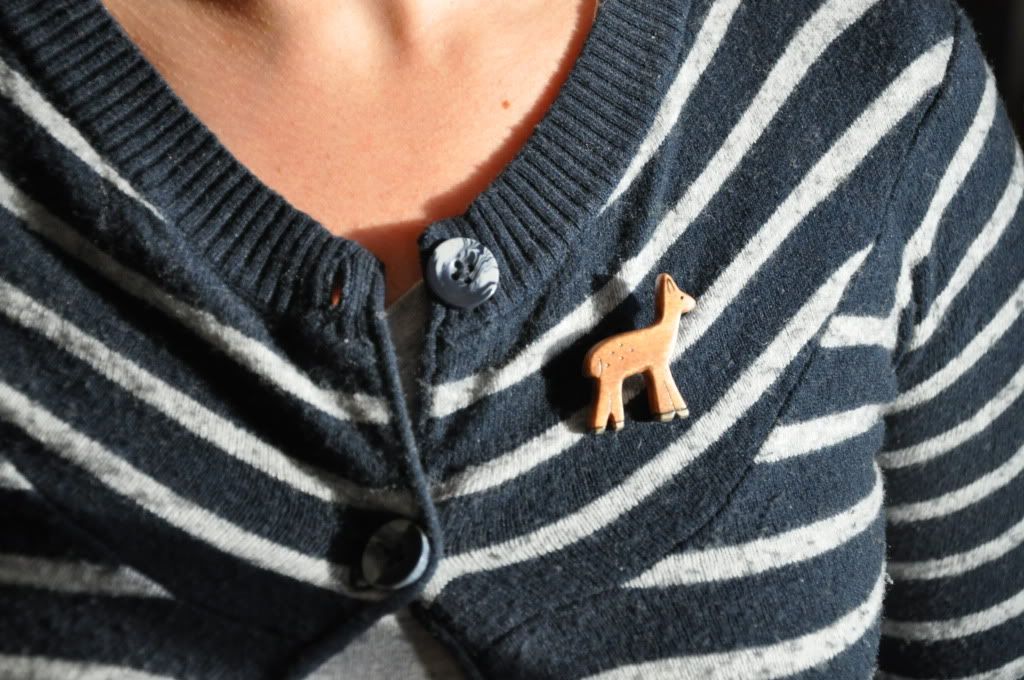 I mean, how cute is that little guy? Pretty cute if you ask me. I literally wore him right away on Friday, and then I wore him again yesterday. He's just a fun touch to add to an outfit. Plus, he's wooden, and if you know anything about me, you know that I ADORE wooden accessories. I basically only wear wooden earrings, I own a couple wooden necklaces and about half a dozen wooden bracelets. So, yeah, I guess what I'm try to say is, this little dude is in good company in my wardrobe.
So, there you have it, my deer brooch... and a hand-drawn bear saying "much thanks" (another awesome personal touch from Allison at Outside Everywhere).
If you like my brooch or something else in Allison's shop, be sure to stop by my
post from Thursday
where the Ladies of the Mountains have a giveaway going on. If you're the lucky winner, you get to a $25 credit to Outside Everywhere. Good deal, right!?