Well folks, as you can see, autumn is now a distant memory here in Jasper. We had snow Friday night and Saturday and I think it might be here to stay. I've always had mixed feelings about the snow. Actually, to be honest, I used to hate it. I think that's mostly because of growing up on Vancouver Island in a town where we'd get two days of snow followed by three days of rain. The first two days would be awesome. We would build forts, have snowball fights and just enjoy every minute of our time jumping around in white powder. Then, the following week would be miserable as the snow and rain would mix to make a horrendous slushy mess. Ick! It actually wasn't until I moved to Yellowknife in 2010 that I grew to appreciate the snow. And this year, I'm actually excited to see it.
I actually didn't even know about Friday night's snowfall until Saturday morning. I was lying in bed scrolling through my Twitter-feed, trying not to wake Ian, when I read that Maligne Lake Road had received 25 centimetres of snow the previous night. When I read those words, I immediately sprang up to take a peak through the blinds... promptly waking Ian who I hit in the face on my way up. Whoops.
Anyway, this is what I wore to celebrate the snowfall. It is nearly too cold for this jacket already, but I toughed it out. I figure, if it's autumn everywhere else, I should at least have a few more days or weeks in my faux leather jacket before I trade it in for something warmer.
From head to toe:
Toque: A vintage shop on Whyte Avenue in Edmonton
Scarf: Ardene
Jacket: Thrifted
Jeans: American Eagle
Shoes: Athlete's World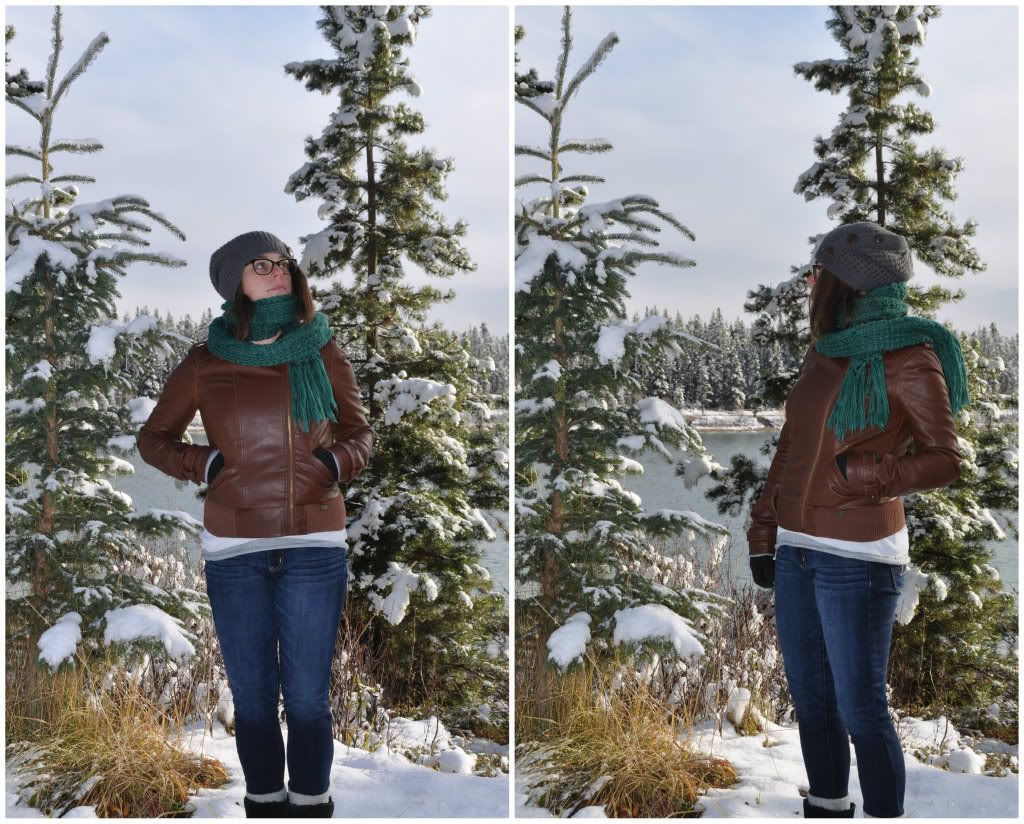 On a non-snow related note, guess what everybody!?! I took these photos myself. That's right, I FINALLY pulled out the ol' tripod and remote and gave self-shot outfit photos a go. It wasn't quite as bad as I thought it would be. Although, there is a noticeable lack of variation in the photos. It's definitely going to take some practise before I start getting fancy. But, all in all, I'm pretty stoked on the outcome.
Have you ever tried taking your own outfit photos? Do you find it terribly difficult and awkward? If not, do you have any pointers for a noob?