The other day, we got a few inches of fresh, gorgeous, powdery snow that made the roads in and around town treacherous to drive. And, when I say treacherous, I
mean
treacherous. Because of the super sketchy streets (and my fear of winter driving), my friend Nicole – who is from New Zealand and had never seen powdery snow until that day – and I decided to go on a walking adventure on a trail near town. That's right, the gorgeous landscape you see above is literally a 10-minute walk from downtown Jasper. Amazing, right? You really don't have to go far to see beauty in this town. You just have to open your eyes wherever you are at that moment and you'll see something gorgeous.
For Ladies of the Mountains today, our mission was to chat about a mountain haven we'd visited recently. With all the snow on the ground, it's been difficult to get very far, other than to the often trudged trails, so that's what I've had to stick to. The area pictured above is called Old Fort Point. When there's no snow, you can hike up to the top of a huge hill and get an amazing view of the surrounding mountains. But, in the winter months, you're basically stuck in the low lying areas. So, Nicole and I walked from the bottom of Old Fort Point to Lac Beauvert.
Don't worry, I'm no idiot, I stayed off the thin ice. But, man, I gotta say, my urge to go skating is only getting stronger as the winter goes on. Luckily, the temperatures are dropping, so the ice will grow thicker in no time (I hope!). For Nicole, it was her first time experiencing -18 C. It was the coldest she has ever been. It was fun for me, a Canadian and someone who has lived in -40 C temperatures, to see her freak out about how cold her thighs and bum were (those are always the first to feel the wind!).
This was her "my body's so cold it hurts face":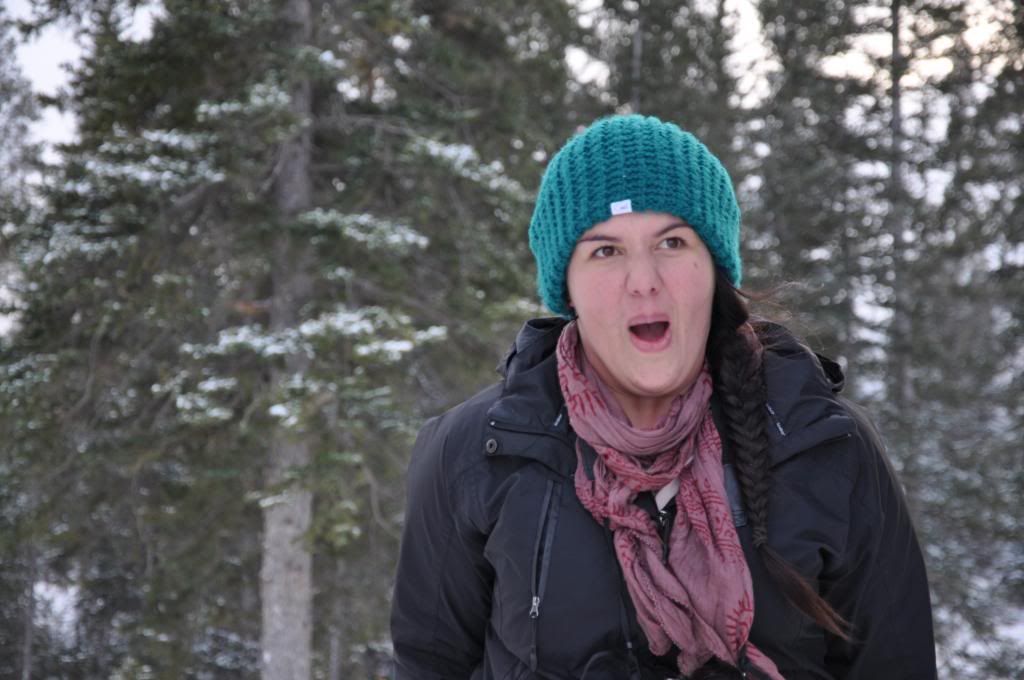 Ha! This still makes me laugh. She's just so cute and winter is just so foreign to her. I have to say, I really love meeting the people who come to Jasper to experience Canada. It's just so exciting to go on adventures with them and to see places through their eyes. As a girl who grew up around mountains and snow and big trees, sometimes I take those things for granted, but when I'm with someone who grew up in a city or a completely different country, I'm always reminded just what I have and how special it is.
Although our little adventure wasn't a big production, it was a lovely way to enjoy the snow and the crisp, cool air. Nicole mentioned while we were walking that Jasper's winter air had to be the cleanest she had ever breathed. What a lovely thought.
Well, it's lovely until you breath and fog up your glasses, anyway...
Well folks, that was my latest mountainy adventure. Be sure to check out what the other LOTM have been climbing and hiking lately: