Today is Remembrance Day in Canada - a day that has been recognized each year since the First World War. It's a day to remember soldiers who died in the line of duty and to recognize the veterans who are still with us today. A symbol of that remembrance is the poppy, worn on your left side.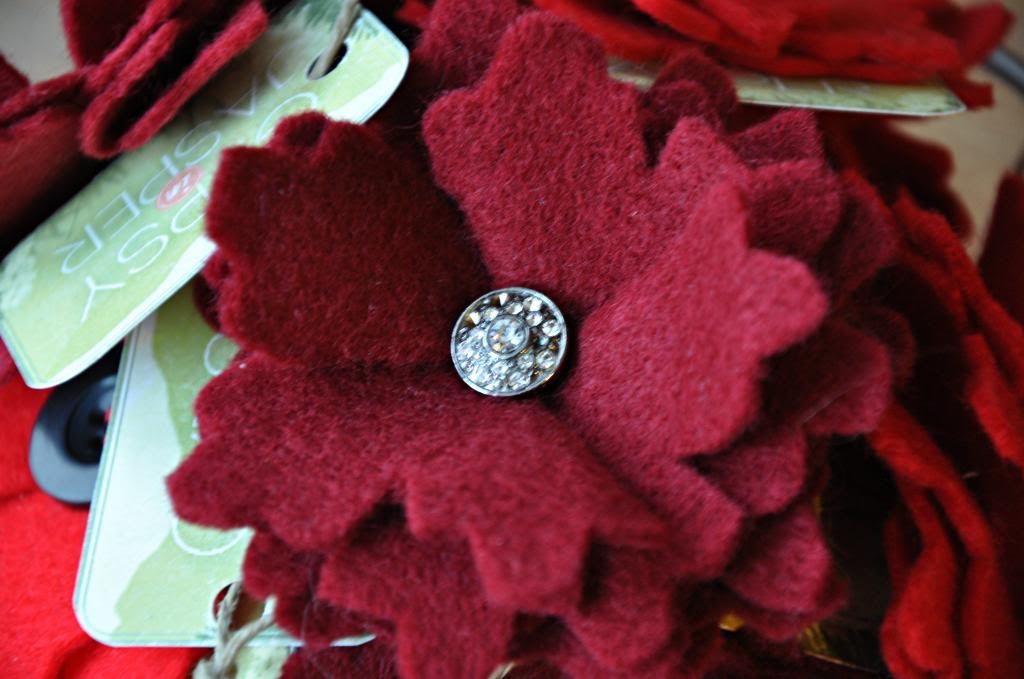 This year, with pressure from my friend Mishelle, I sold my own, handmade felt poppies to raise money for the Poppy Fund. I have been making these flowers for nearly a year now and have worn a red one on my jacket for months. The other day, Mishelle mentioned to me that she thought my flower would make the perfect poppy, especially since it has a real pin on the back, so it doesn't stab you or fall off. With some more encouragement and graphic design/marketing help, last week, Mishelle had my poppies in two shops in Jasper and, in no time, I had the shop owners asking me for more.
Tomorrow I'll pick up the money and find out how many I sold and how much I raised for charity. I'm really excited about the success of this little venture and I'm really grateful to have had Mishelle pushing me to just jump in with both feet. Generally, I have a hard time marketing myself and seeing value in my own work, so having her take the reins with branding and talking to businesses was an incredible help. And, it also opened me up to a greater opportunity...
One of the shops has asked that I continue making my pins for them, in different colours for each season! So, what started as an opportunity to give back to a worthy cause, has actually turned into a bit of a business opportunity that can continue year-round. Exciting, right!!?