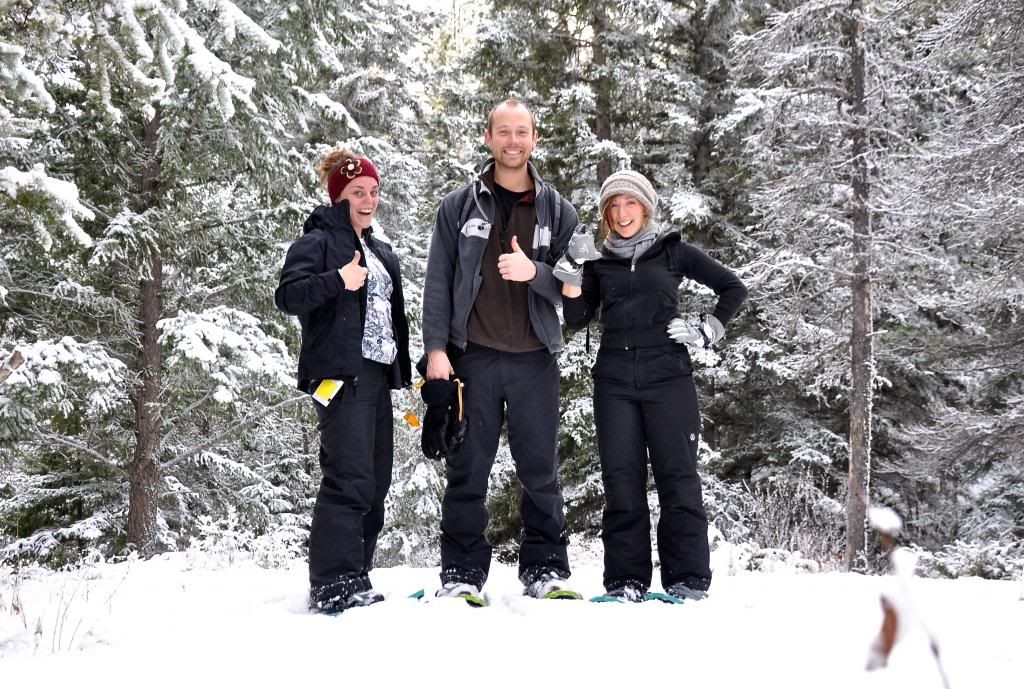 My pals Maarty and Mishelle and I went for a snowshoeing adventure on Saturday, only to find out we had picked a terrible location with very little snow. So, we trudged around in our snowshoes, scarping against every rock that was poking out from beneath the snow. It was a bit of bummer, but we still had a great time. Plus, now we're all committed to going again, so we can actually experience snowshoeing... you know, with some actual snow.
On Sunday, we all went skiing at Marmot Basin. Although we managed to do a ton of runs, the day was sort of tainted by a calamity of errors. The first: I had rented boots (as I'm waiting for my new ones to arrive in the mail) and they were so tight that within 10 minutes of being on, I had lost feeling in my toes. And, when I took them off, I literally had pins and needles. Yikes! So, anyway, I rented new ones and all was well.
Then, later in the day, Mishelle injured her ankle, taking her out of commission. So, Maarty and I skied to the parking lot to get the car and when I was attempting to do a wide turn, to get myself turned around, Waldo ended up in the ditch. Yup. That happened. So, Maarty (who's a ski patroller by day) grabbed his avalanche shovel and started digging my wheels out. After his many efforts, it didn't work. So, a guy who Maarty works with used a HUGE forklift type thing to drag my car out. How embarrassing.
From there, we went to pick Mishelle up at the chalet, Maarty carried her to the car and we took her to the hospital. She didn't break anything, but she sure did bungle herself up good.
It was a weekend of adventures, that's for sure.
How was your weekend? Any trips to the hospital or run-ins with a ditch?