Kitchens are where it's at. No matter who's house I'm in, it seems my pals and I always end up in the kitchen for a good portion of the evening. We stand around or sprawl out on the counters and just chat the day or night away. There's just something cozy about a kitchen. When I lived in Yellowknife, my roommate and I would spend hours on end sitting on the kitchen counter talking, drinking, making dinner, eating dinner and just being together. We would solve each others problems and share hundreds of laughs from those perches, with our backs up against the cupboards and our legs dangling over the edge. I look back on those talks so fondly. In fact, I'd even go as far as saying, I miss them dearly.
All of this is to say, I love kitchens, whether they're being used for cooking or socializing, I just downright love them.
So, when my landlord told me a couple weeks back that he wanted to give mine a makeover, of course, I celebrated with enthusiastic happy dances. And then, when the work began last week, the happy dances continued. And, now that the work is just about complete (just grouting to go!), I'm basically a convulsing mess of happiness. So, without futher ado, here for you are some before and after shots of our wee-little apartment kitchen. Let's begin with a fun one, shall we?
This was one of our apartment photos when we first moved in. (You can find the rest of the series
here
,
here
and
here
.)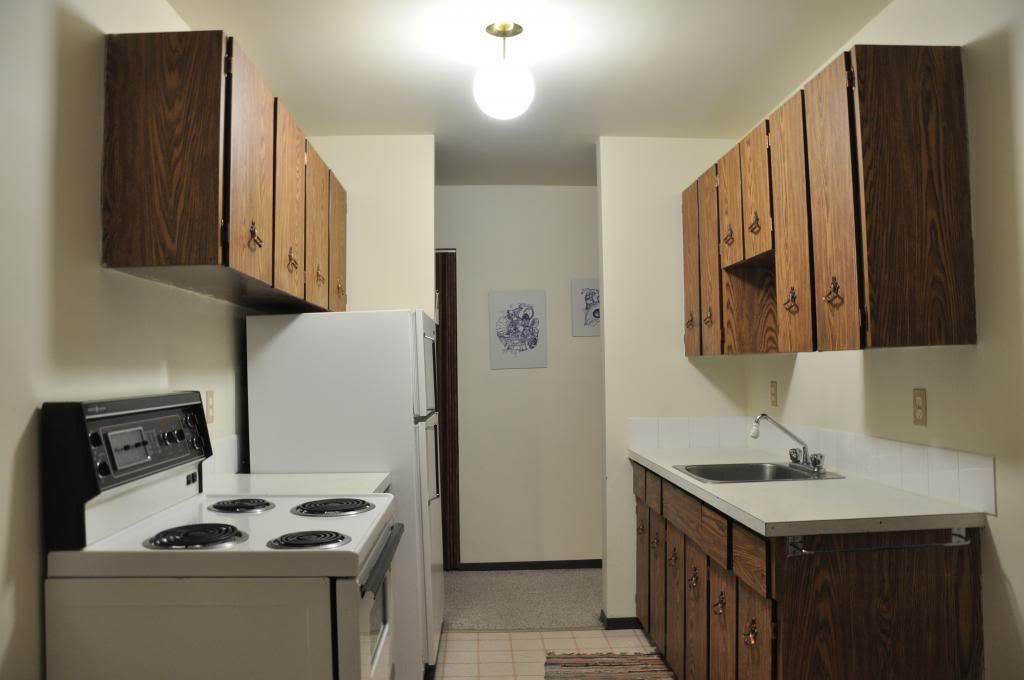 So, this is what our kitchen used to look like. It was dark and old and it looked like something straight out of the 70s. But now, that has all changed!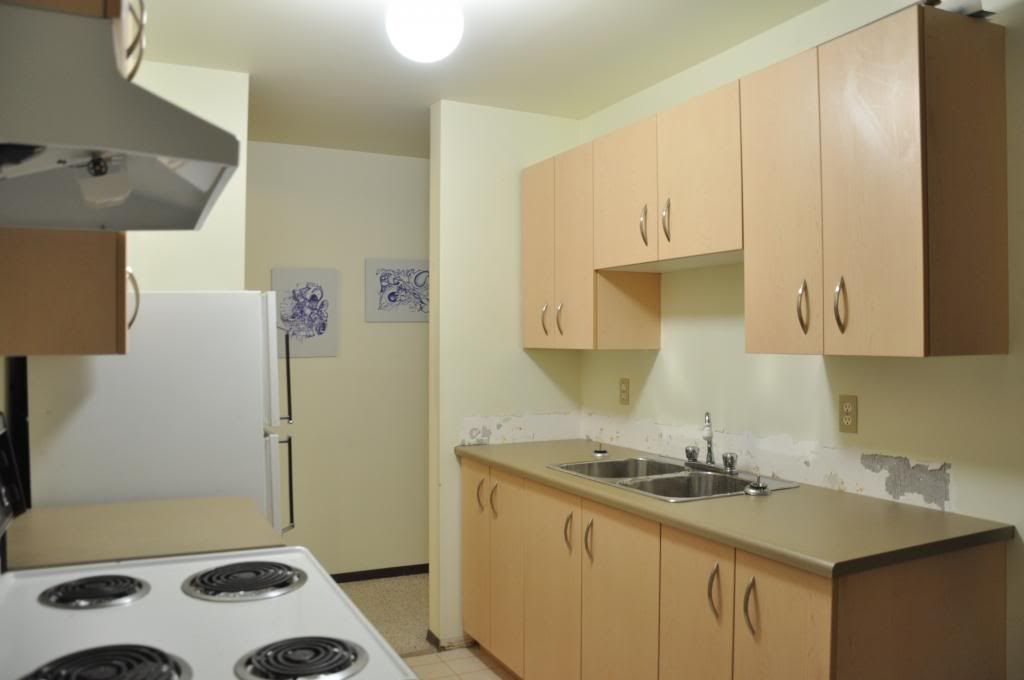 So, this is what my new kitchen looks like without the tiles that were just installed yesterday. I'll post photos when the whole thing is complete. But, I was just too excited to share the transformation, so I decided not to wait until the grouting is complete to post about this lovely little makeover.
Ian and I have the best landlord in the world. Until now, I have never had one that legitimately cared about his tenants the way that ours does. When we moved in one year ago, he asked the old tenant what her one complaint was about the suite and she said the cabinets. On that day, Don promised us we would get new ones, although he wasn't sure when. Well, a year later, here we are with a brand new kitchen. I'd say that's a pretty decent turn around considering he's in charge of dozens, if not hundreds, of suites around town. (We've also got new carpets since we moved in!)
So this week I'm thankful for my awesome landlord, my new kitchen and, on a totally unrelated note, beards.
What are you thankful for? Do you have an amazing landlord?