Hey, hey, hey! Sorry for getting all deep yesterday. I just, kind of, wanted to scream from the rooftops a wee bit. Obviously I'm not a "recovered" people-pleaser yet, but the fact that I'm making strides to overcome the overbearing need to please is something I needed to say out loud. I figure, that way, I am accountable to all of you, as much as I am to myself.
So, anyway, onto the lighthearted task at hand: What to Wear. This week the ladies and I are dressing for dinner with the fam jam. I haven't had a family dinner in awhile, as Ian and I are both living a fair distance from our respective fams, but when we were living in Yellowknife, we had dinner every Sunday with his parents. So, I thought about what I used to wear for such an occasion and put this together...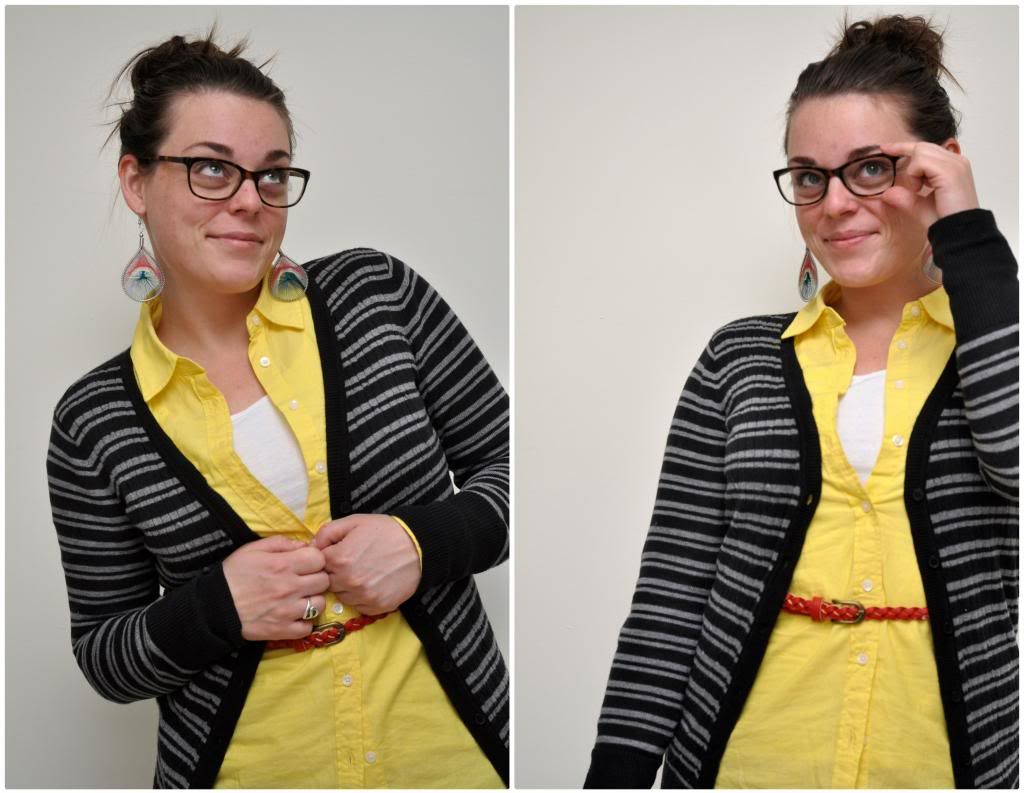 You might note that I'm indoors for these photos, with no beautiful mountains or wilderness in the background. You see, now that it's winter in these here parts, it's tough to get outside for a photoshoot before the sun goes down. (It's seriously dark at about 5 p.m. these days!) So, yesterday, I had to set up the tripod in the living room for a quick and dirty shoot, complete with an external flash.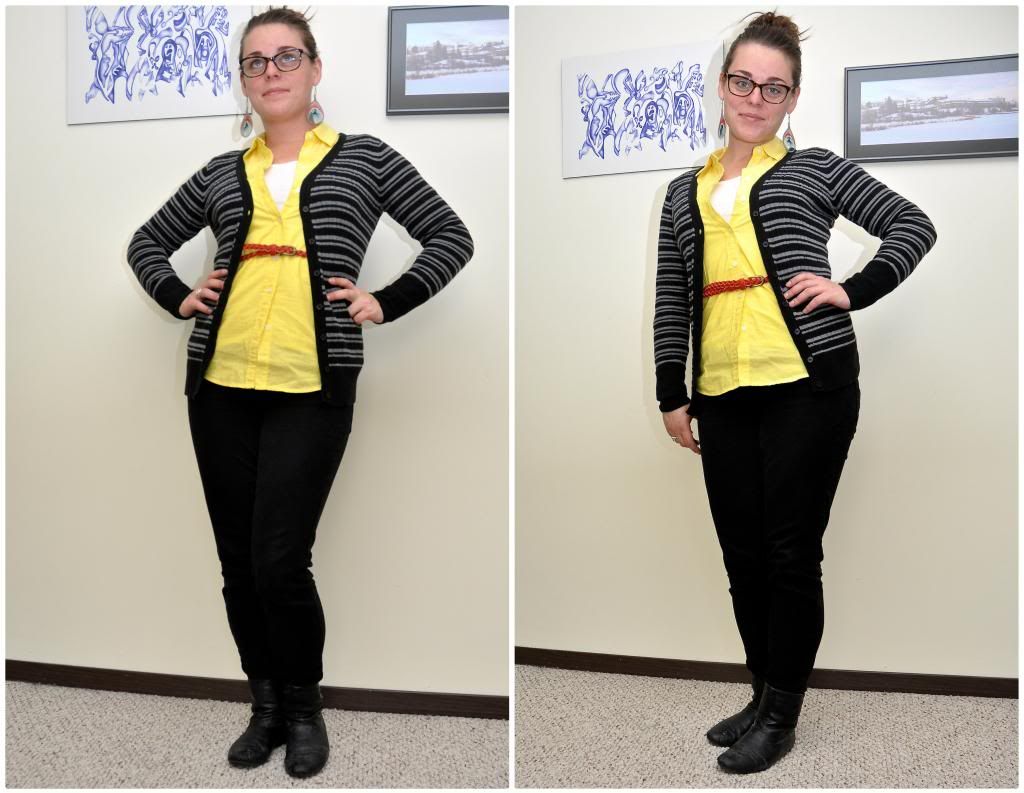 For dinner with the parents, I would usually be comfortable, colourful and put together. So, for this outfit, I went with my new comfy yellow shirt. I know it's totally a spring colour, but I love how bright it is. It's just such a nice contrast from the gloomy winter days we're having. I bought the shirt and belt at Value Village when I was in Edmonton a few weeks back. I actually had a good haul that day. (It must have had something to with shopping with
Lisa
! She's a good little shopper, that one.)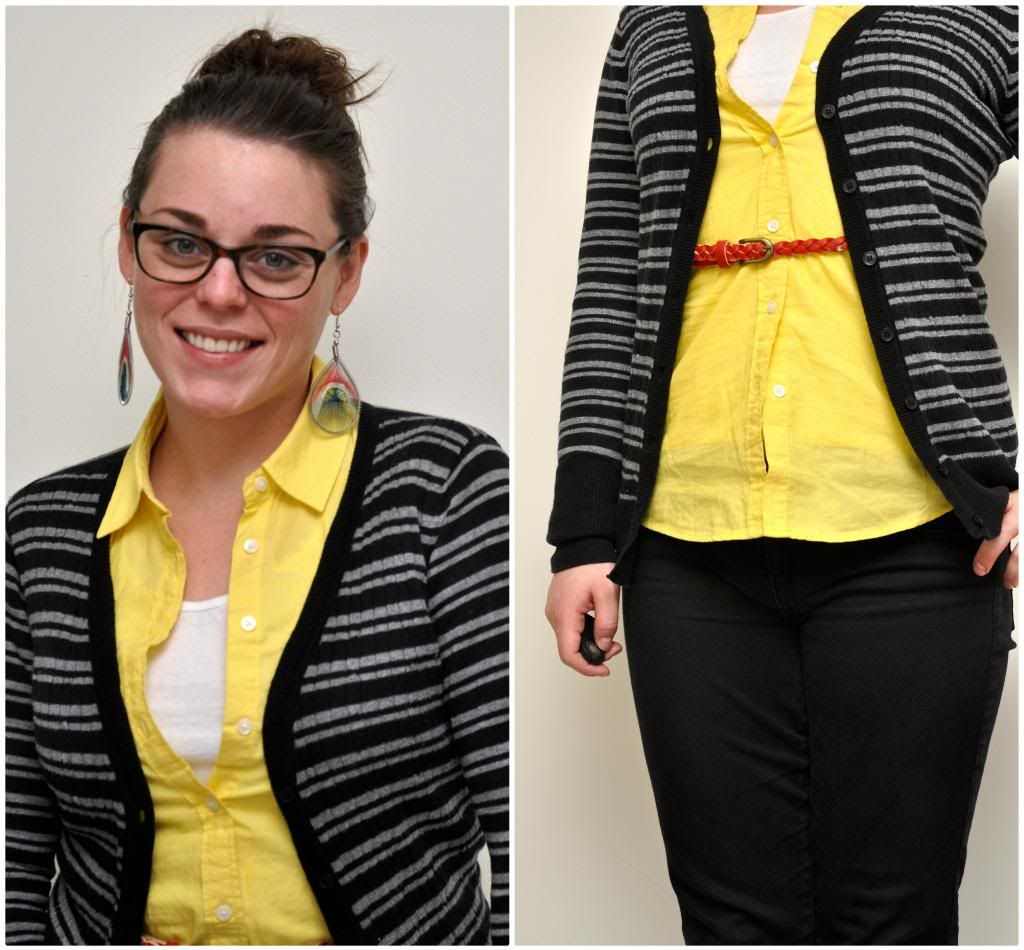 From top to bottom:
Earrings: Ardenes
T-shirt: Ardenes
Shirt: Value Village
Sweater: Walmart
Pants: American Eagle
Shoes: Delia's
Don't forget to check out what the other What to Wear ladies put together for their fam dinner outfits:
Be sure to pop by next time when we dress for a snowy day (or a rainy day, depending on where the What to Wearer lives!) If you want to join in the What to Wear fun, throw me an
email
. We welcome all the fashionistas out there to join us in this little style adventure.