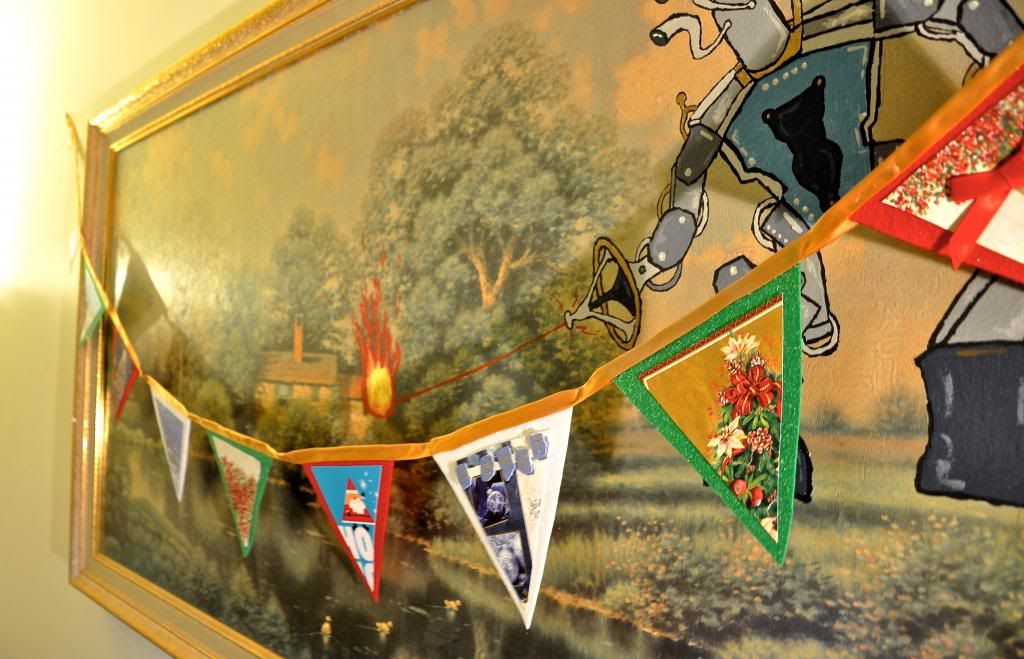 While reading
Shayla
's blog the other day, I came across
this brilliant idea
for reusing old Christmas cards as the extra pizazz on bunting, and I knew I just had to do it. I found my old cards sitting in a pile, being completely useless, and I thought, 'Well, if I'm going to keep them, I might as well make them useful.' So, the above is what I came up with.
I had never made bunting before this project and now I want to make it to hang EVERYWHERE. It's just so cute and there are so many possibilities. Like, a new one for every season!!
To make this one, I cut out two cardboard stencils, one larger than the other, in the shape of a triangle. Then, I cut out 10 small triangles out of Christmas cards and 10 large triangles out of stiff felt. Once those were finished, I hot glued the cards and felt together before attaching them all to a piece of ribbon. The whole project took me about an hour to do and I'm super happy with how it turned out.
Have you ever made bunting?
**
I figure

, in

anticipat

ion of

all the questions about our robot painting, I better just share the st

ory...

When Ian was in photography school he had no art on

the

walls of his apartment, so he picked up this picture from Value Village. His intention was to take the painting out and replace it with a photo, but that never happened. So, one day, he just hung the painting for the sake of having something on his wall. It hung there for months until he was finally inspired to improve it. And by improve it, I mean, he was inspired to put a robot on it. That was years ago, and it is still one of his most prized possessions, and it's also one of my favourite pieces of art in our apartment.
**