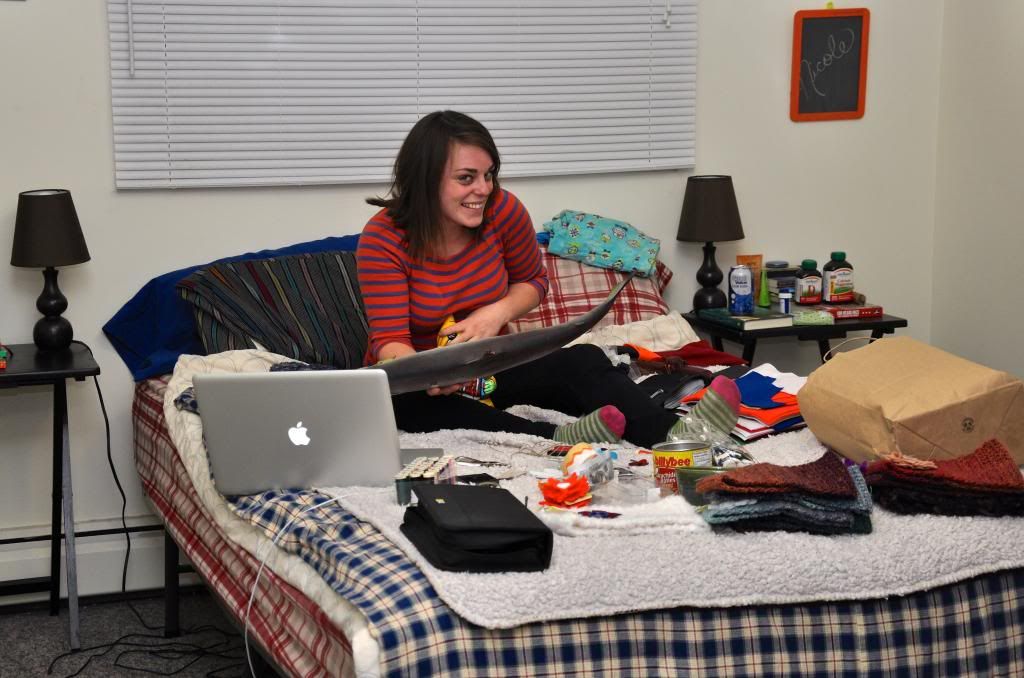 On Saturday, I decided to take the night off. I just wasn't in the mood to socialize. I just wanted to drink tea, watch movies and craft. So, I lugged all of my craft supplies and my laptop into the bedroom and turned my bed into a craft station. I closed the door, burnt a pine scented candle, drank a cup of Stash Mango Passionfruit tea, put on Donnie Darko and hunkered down to work on a metric butt-tonne of crafting for today's craft fair. Halfway through this process, Ian, who was hanging out with his pal Maarty, came in to say hi. And, then, before I knew it, the photographer in him kicked in and he was running for my camera. Something about the way everything was sprawled across the bed called to him.
But, Maarty wasn't satisfied with my outfit or props, so he started collecting the most ridiculous things in our house to add to the photo. It started with Ian's zombie lawn gnome. Next it was Ian' flute. Then it was the taxidermic fish Ian painted. And then it was the helmet Ian wears when he bikes. And finally, it was Ian's snorkel. (Notice that all of the ridiculous things in the house belong to Ian and not me. How boring am I!?)
So, anyway, here for you are some of the most ridiculous and fun photos to ever grace my blog. Ah! Who am I kidding? There are ridiculous pictures here all the time. But, these are pretty great! I hope you love them as much as I do!
Do ridiculous, spontaneous photoshoots ever happen in your life, or am I all alone on this one?