I know it's not news that Ian and I build forts in the living room. I showed you one last month. But, for Christmas, since we had already celebrated on the 22nd and again on the 24th, we decided there was no better way to spend the day than inside a bigger and better fort. So, after opening a few presents and eating leftover turkey soup for brunch, we grabbed all the blankets and sheets and got to work on a HUGE, living room-sized fort to surround our couch.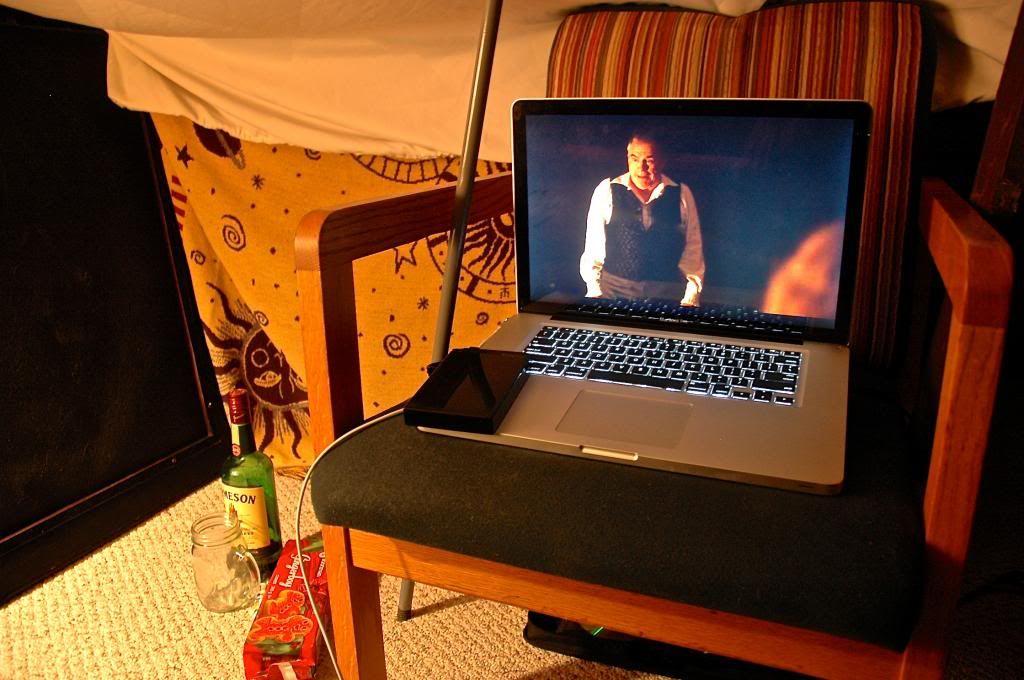 It was in that fort that we spent the entire day. We watched movies (28 Days Later, Sin City and The Fall), ate munchies, drank Baileys and coffee and beer... and whiskey, and just cozied up for the entire day. Although it wasn't Christmas with the fam, it was definitely a good day. Plus, we got our family time in, as well, through phone calls and Skype chats between movies. So, really, it was kind of perfect.
The story should end there, but it doesn't. You see, the fort was so well made and amazing that we decided we would leave it up for just one more day. But, one day turned into a couple more days and before I knew it, I was making phone calls and doing work from inside a blanket fort.
Yeah. It's a bit weird. But, no, I don't want it any other way. In fact, if I'm being completely honest, the fort remains intact today. And, at this rate, who knows when it will come down. It might take a gathering of friends for us to finally admit that our fort has served its purpose. But, then again, I'm sure we could fit three more people in here, so maybe that'll just become an excuse to have a fort party!!
Happy Friday everyone!