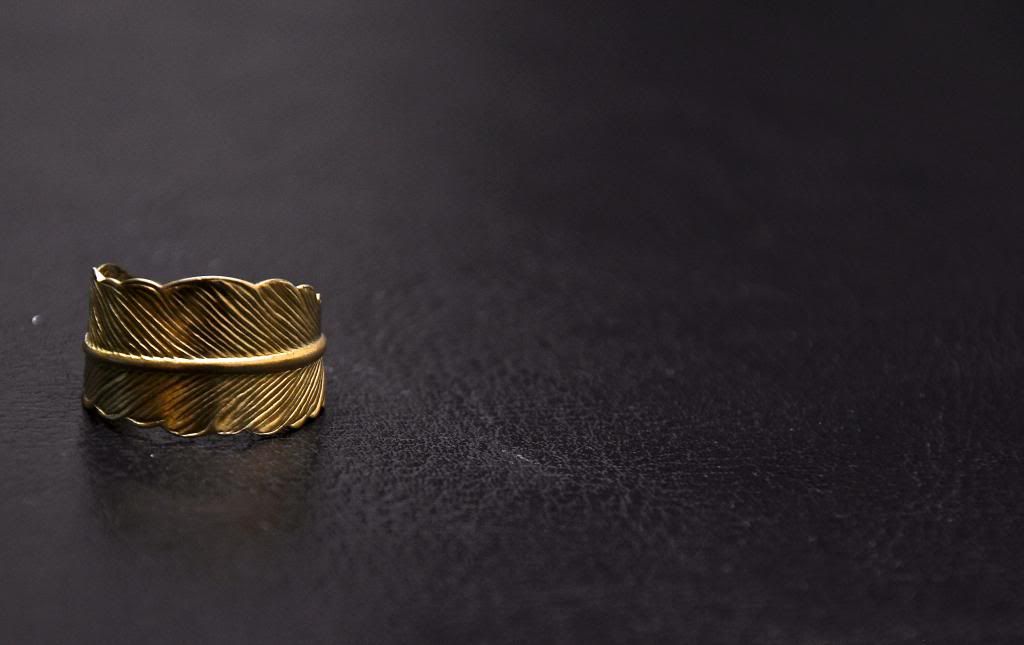 Is there any better gift than one that's given "just because"? A little something someone saw and just knew you had to have? A gift that is perfectly timed with one of your ... moods? I truly believe there isn't. A well thought out, out-of-the-blue, I was thinking of you gift is just the cat's meow (or, you know, something that I actually like...). So, why am I talking about such gifts, you might ask? Well, because I just received one and it has me bouncing around with joy and thanks.
No, I'm not engaged. In fact, I never will be, as we're not into that kind of thing. But, yes, Ian did buy me a ring. To be honest, I never thought of Ian as the type of boyfriend who would buy me jewelry. He has always been an incredibly thoughtful and practical gift giver. The first gift he ever gave me was a blown up copy of one of his photos. He printed it huge to liven up the otherwise blank walls in my room. The next gift was my camera, something I desperately needed but refused to pay for (because I'm terrified of spending large amounts of money in one transaction!). Then, he gave me a
Power Glove lamp
that he made himself. I had found the glove at the Yellowknife dump and brought it home requesting that it be made into some sort of lamp. So, he got to work on it and made me a masterpiece. After that, I received a painted
mannequin head
with doll legs for horns and action figure heads for eyes. OK, so, maybe he's not always practical. But, often he is. And when he's not, he's just incredibly creative and incredibly Ian.
So, anyway, then all of a sudden he started surprising me with jewelry. The first piece he bought was a pair of amber earrings I was fawning over at a vintage shop two years ago. Somehow, I still don't know how, he managed to purchase them for my birthday without me noticing. The next piece of jewelry was the
leaf necklace
I received for my birthday this year. And now, to top all of that off, I have a gorgeous feather ring that I adore. I have to admit, I'm surprised at Ian's ability to shop for me. Somehow he knows just what I would buy for myself. In a way, it's scary how well he knows me. But, then again, when I'm having a crappy day and he just happens to have a surprise waiting for just that moment or when he has the perfect thing to say, I melt a little bit inside. And, I realize that having someone
know
you is probably one of the most amazing things in the world. It reminds you that despite all of your craziness and all of your idiosyncrasies, someone sees who you really are and that someone loves that part of you and every part of you. Magical, right?
**OK. That's enough. I'm going to quit while I still have the balls to publish this incredibly sappy post. Excuse me while I shake that one off. Ick.**