We're well into winter here in Jasper, so it only makes sense to show you how we mountain-dwelling ladies dress for the weather. I wore this outfit when it was about -15 C and I was toasty warm (at least for the first hour, anyway). My motto when it comes to dressing for the chilly winter months is: layer, layer, layer, and then throw on one more just for good measure.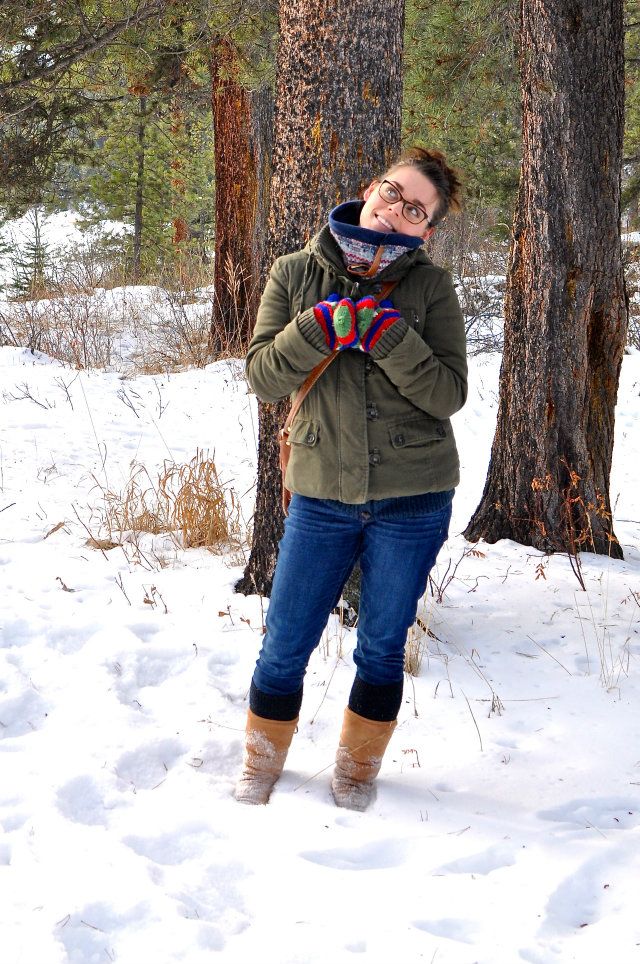 In this case, I went for a pair of skinny jeans that I can easily tuck into a pair of warm boots, a long sleeved top, a long wool sweater, a jacket, a cowl and two pairs of mitts. Oh yeah, and I also threw on a pair of extra-long socks to add a layer of warmth to my calves.
From top to bottom:
Jacket: Value Village (heck ya!)
Sweater: Walmart
Mitts: Craft fair
Jeans: American Eagle
Socks and boots: Ardenes
My cowl was made by my pal Mel over at
Needle and Nest
. I just adore it. It tucks right into my jackets and keeps the wind at bay. Plus, I can pull it up as high as I like. On this day, while running between my tripod and my photo position, I had it pulled up right over my nose, to keep it toasty warm (and to avoid that awkward Rudolph look I get when I'm cold).
So there you have it. That's how I bundle up for a quick wander through the snow or a trip to my favourite coffee shop. What do you wear when you're trying to keep warm?
Don't forget to check out what the other Ladies of the Mountains put together. I bet they all look absolutely fabulous all layered up.