As an early Christmas surprise, my dad sent me a digital advent calendar that sits on my desktop. So, everyday this holiday season, I get to wake up and discover a festive animated illustration by clicking the cute snow globe that sits on the lower righthand side of my screen. An example of one of the delightful animated gifts I've received so far, was the opportunity to build my own snowman.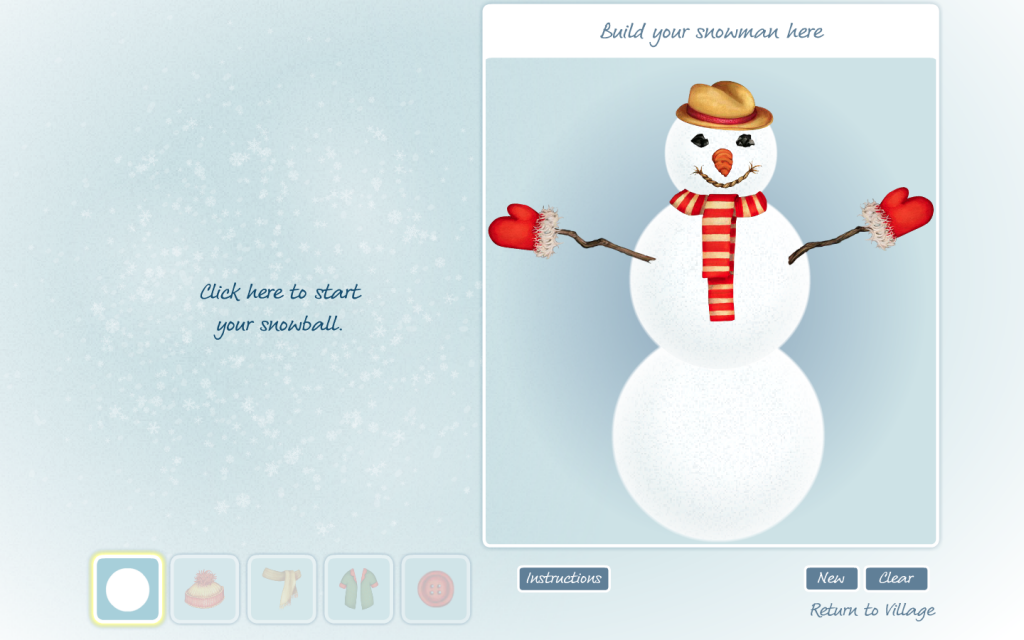 I call him Fred. I built Fred on Saturday morning while I was still all snuggled up in bed. I had different hats and scarves and buttons and coal to choose from and I even got to roll the snowballs myself. Now that he's been built, Fred hangs out in the village, an animated little place that changes with every passing day. You see, every day when I open the village, a new ornament representing that day is placed on the tree. So far, I have a letter because I visited the post office to see all of the gifts waiting to be delivered; I have a toy plane because I visited the toy shop; and I have a snowman because I built one. You can also see Fred in all of his glory next to the tree on the right hand side.
And if all of that isn't cute enough, I also have my own little cottage where I can do holiday puzzles, listen to Christmas music and decorate my tree. And, just like the village, my cottage changes each day. The cards on the windowsill are from when I visited the post office. The snowman on the mantle is from when I built my snowman and the toy plane on the presents is from the toyshop.
My amazing advent calendar was made by Jacquie Lawson. My dad has been subscribing to Jacquie's e-cards for years now, so every holiday I'm greeted with a beautifully illustrated card in my inbox.
And now, this Christmas, I get to enjoy a little animated illustration everyday. My dad purchased a calendar for himself as well, so we've been having fun chatting about what we've done already and how our snowmen turned out.
I have to say, I'm really thankful to have this little calendar to keep me in the Christmas spirit. And, I'm thankful to have a dad that knew just what to do when I was feeling down and out. Thanks Dad!
For all of you out there missing the holly jollies in your life, you can get your own digital advent calendar
here
.
What are you thankful for this week? Do you have an advent calendar that you open each day?