I love music. I really do. If you ask me, a good album or playlist can make or break any situation. So, today, I thought I would share a few of the albums I play the most. (Instead of a TV, we have a record player as the focal point of our living room, so for us, vinyl is where it's at. If I'm being honest, though, all of the records belong to Ian. In fact, before I met him, I hadn't touched a record or a record player since I was a kid dancing around my basement listening to the Beach Boys on repeat.)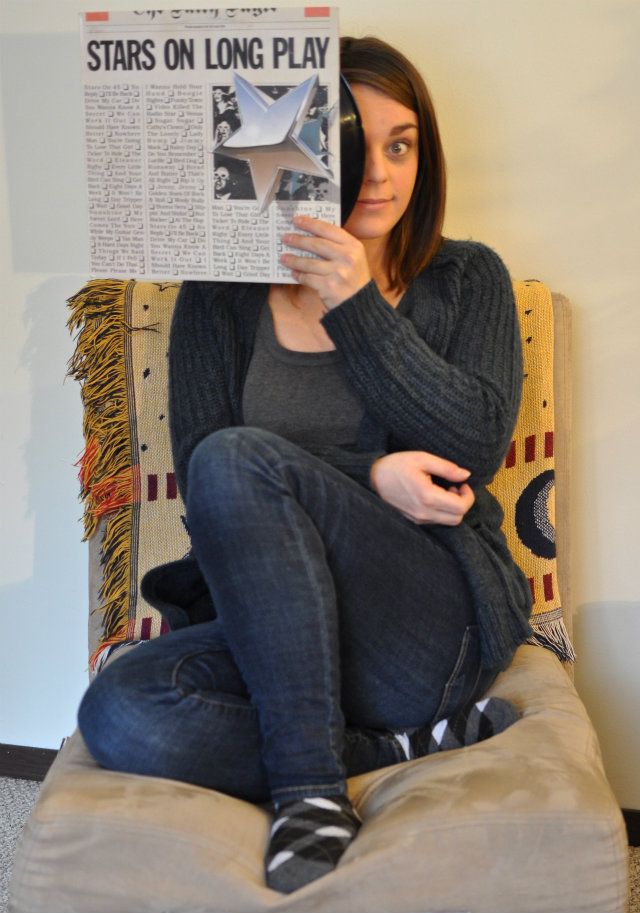 Nowadays, though, when I need a dance party, I throw on Stars on Long Play. This album is the best. Seriously, it makes me so happy. Basically it's one band singing snippets of songs from the 50s, 60s and 70s and turning those snippets into an album length song. It's kind of like if Girl Talk were to actually sing the songs he's mashing up into pure magic.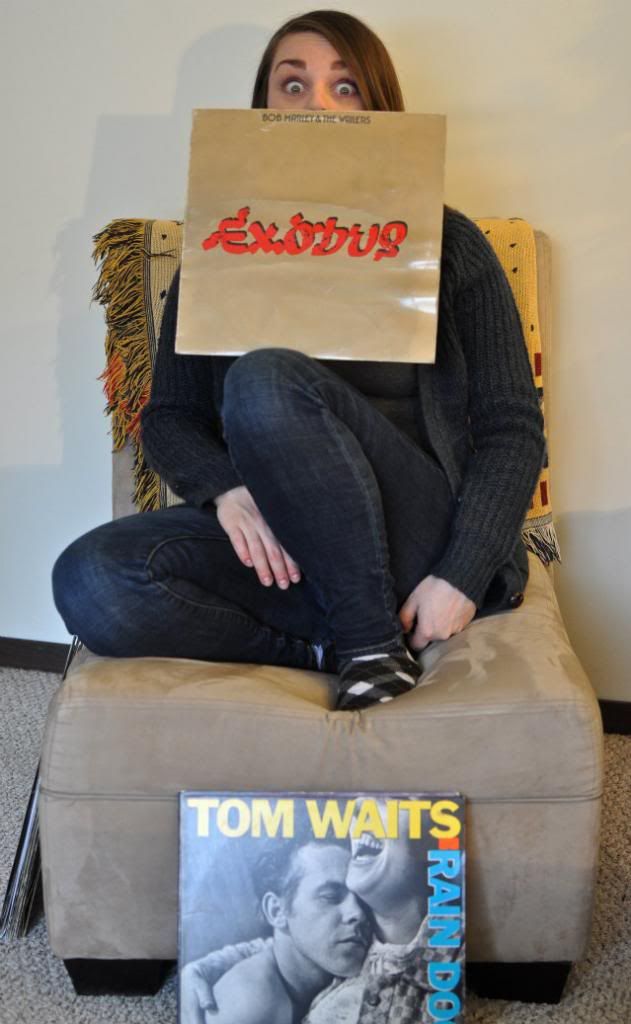 And then there's Bob. Good ol' Bob. This record reminds me of being a kid. My mom was a big Bob Marley fan back in the day (hence why my brother and I now ADORE all things reggae), so growing up we heard songs like No Woman No Cry all the time. I can still remember my mom whistling it. She wasn't much of a singer, but she sure can whistle.
You'll also notice Tom Waits chillin' out by my feets. Some days, all I want is to listen to his gravely voice sing me songs about Singapore. There's something about his
I've drank so much whiskey and smoked so many cigarettes in my day
voice that makes me swoon.
If you've been hanging out here at Gypsy in Jasper awhile, you'll already know I basically live and die for Billy Joel's Stranger. In fact, I love this album so much that Ian and I recreated the cover art, with
me modeling as Billy Joel
. Yup. That's what fans do. And, no, it's not weird.
If you don't know The Meters, you need to go get your funk on. Seriously, these guys know how to make an album. I get super pumped up when I listen it. It makes me bob my head and tap my foot and shimmy on the kitchen floor.
And, then, there's Culture Club!! Ian and I just found this little gem at a local thrift shop and I
had
to have it. I've only listened to it once so far, but I already know it's going to be in frequent rotation on our turntable (whether Ian likes it or not!!).
Although I could probably go on and on, I'm going to leave this post on a high note with this amazing Ry Cooder album. Cooder is a folk, rock, bluesy genius. This is his second album, and because I haven't heard a ton of his other ones, I'm going to go ahead and say it's the best one.
Are you guys music buffs? Do you collect records? What do you have on repeat these days?