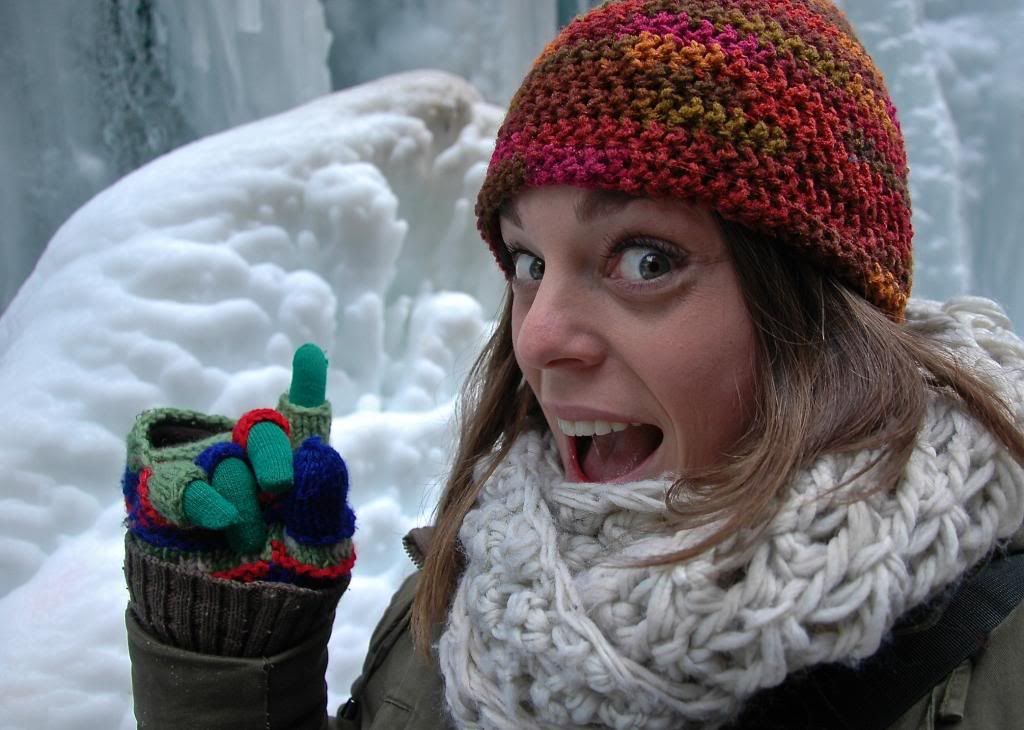 This is my "I'm No. 1" pose.
I am a champion! And all it took was crocheting a toque to make me feel that way. That might not be that exciting for most, but it's super duper, over the top, I want to dance around the room to bad 90s pop exciting for me. Why? Well, because I used to be super lame. Like for reals. For years I doubted myself and my ability to do anything new. You might be thinking, "What!? Nicole, you be trippin', you do new shit all the time", which is totally true. But, there are and have always been areas of my life where I generally stick to what I know and what I'm good at rather than venturing out and pushing myself further (because I'm scared of failure!). And, crocheting has always been one of those things.
But then, on Wednesday night, I decided I was going to throw all of that hogwash out the window and at least look at a pattern for a toque. I figured, I'd give it a try and if I
really
couldn't do it, I'd go back to making my go-to headbands.
My inspiration for taking a step toward the unknown is Alycia from
The Curious Pug
. Each month she posts a new project for her
Crochet Along
project. And, last month was a toque. I saw it at the beginning of December, but at that time I wasn't quite ready to commit to this whole trying new things idea, so I forgot about it. Then the other day, Alycia posted her January project, which is a bit more complicated than the toque. And, I thought,
"
If I'm ever going to join this amazing project, I better start with the easy projects and work my way up with the group". So, I went back to the toque pattern she had posted... only to realize there was no hope in hell I'd ever be able to read it.
I could have quit there, thrown up my hands and said, "Nope. Too hard." But, instead I decided to hit up the YouTubes. I found myself an instructional video and I made myself a toque and, before the night was through, I made another one. So, now Ian and I each have a handmade toque to sport, and I couldn't be more proud.
I seriously feel like I'm ready for anything! I might even give Alycia's latest project a go. That will require some book learning, though, so I can figure out what "2 DC into each stitch, slst into top of the first DC, ch 2. (16DC)" means. But, I figure, I can totally do this. If I can make a toque, I can read a pattern. I got this shit under control!
Anyone out there know where I can find an awesome article or site devoted to crochet lingo? Hook a sister up! (HOOK a sister up. Aren't I clever!!?)