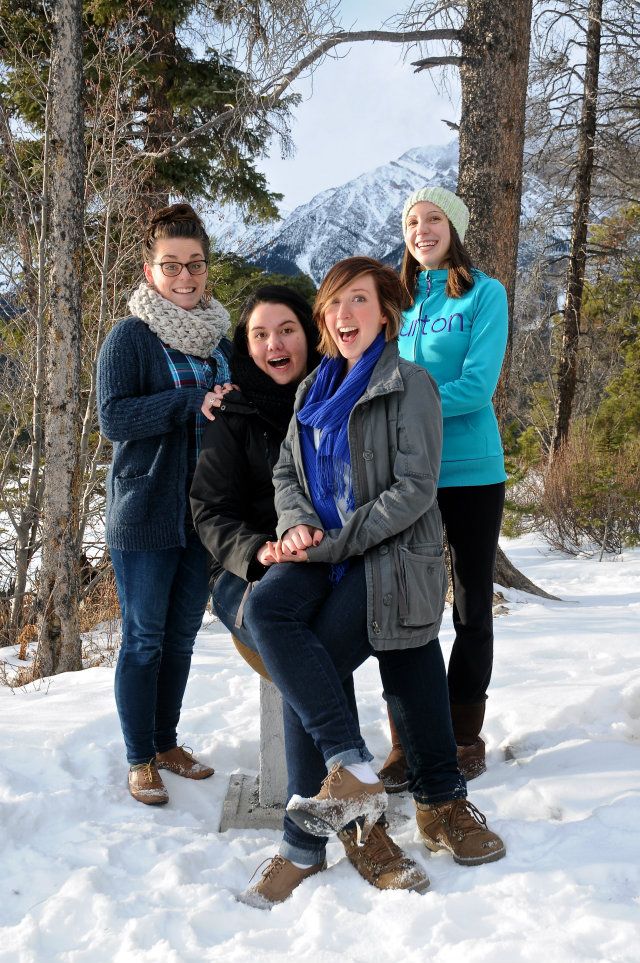 My girl Nicole (second from the left) is moving her cute butt back to New Zealand tomorrow, so yesterday we took some photos to look back on when we're missing each other. The above is our awkward family photo. I think it's probably my favourite of the bunch.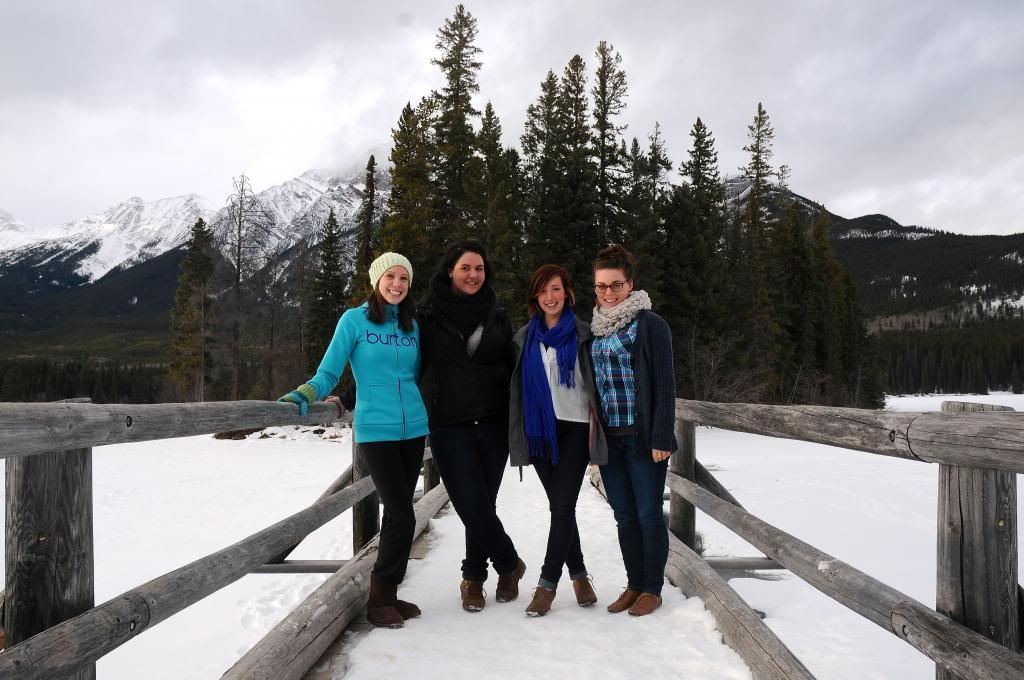 WARNING: Things are about to get mushy up in here.
So, Nicole, and our friend Amy who couldn't make it to the photoshoot, both take off at 7 pm tomorrow night. They're hopping on a bus and then on separate jet planes to head back to their home countries (Amy's from the UK). Although I've been hiding it for the last couple of weeks, I'm really sad to see these girls go. They are some of the nicest, funniest people I've met in a long time and I've really treasured our time together. I first met Amy, Nicole and Mishelle (second from the right) last spring. The girls had all just moved to town to work at the Jasper Tramway, and as part of their orientation, they did a day-long team building workshop that I attended for work. While I was there, I really wanted to befriend them, but I was way too awkward to initiate a friendship. Then, a month later, the Tramway was doing their annual evacuation training and I was asked to participate. So, again, I met the girls and AGAIN I was too awkward to give them my number. It wasn't until September when I went up the tram with my dad that I finally had a REAL conversation with Mishelle and we finally became friends. Although it's only been five months since then, I really treasure these girls. We've shared so many laughing fits and laughter-induced tears. I just can't imagine what Jasper will be like once Nicole and Amy's smiling faces are gone.
I'm going to miss gushing over Johnny Depp, joking about swyping, drinking Fireball in the bathroom, sharing in delicious potlucks, talking about our muffins, eating hangover brunch and talking loudly about the night before, grossing Nicole out with my honesty and just sharing hilarious stories. I guess now we'll just have to do those things over Skype. We'll make our own brunch and catch up on each others' lives as we gorge on roasted potatoes and breakfast sandwiches.
And, one day, we will all meet again. I'm sure of it. Whether it's in Canada or New Zealand or the UK, there will definitely be a reunion. I refuse to believe this is the end of our friendships.
These two are just too amazing to forget. Safe travels, girls. I love you!