It's Valentine's Day, so the Ladies of the Mountains are sharing our favourite outdoor dates. Ian and I aren't into this Hallmark holiday devoted to chocolate, hearts and jewelry, so we won't be going on an extravagant date this evening (in fact, I'm going to a free self defense class tonight!!). But, the other day, we did go for a skate and curl at Pyramid Lake, which for us is pretty romantic. That is of course if you call goofing around and laughing our butts off romantic.
Ian was a speed skater way back in the day, so he has a fairly good handle on skating. He can do it with his hands behind his back. He can do it one legged. He can spin around, and he can stop. In my books that's on par with the experts. You see, because, I, on the other hand, look like a baby deer learning to walk when I lace up. I'm wobbly and I'm constantly waving my hands around to stay on my feet. I'm sure it's amusing to watch, but, despite how completely silly I look, I really enjoy going for a quick spin on the lake. There is nothing quite like gliding around in the fresh air with beautiful mountains surrounding you. It's so peaceful. PLUS, Pyramid Lake has a loop-dee-loop-style ice surface, so it's fun to turn all the corners and go from one end to the next.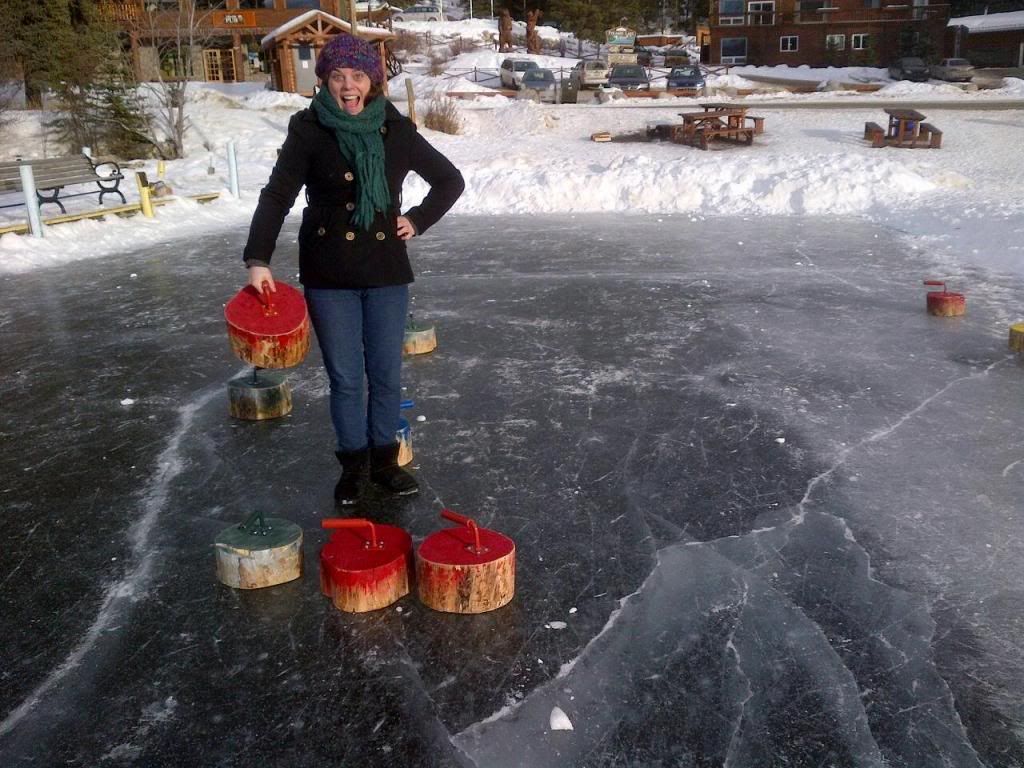 And, the other cool thing about Pyramid Lake is there's a small rink set aside for curling with wooden rocks. So, after our skate, we took to the curling rink for a few games of bocce-style curling. Ian won every time, but it was still a lot of fun.
I have to say, I love outdoor dates. It's so nice to do something that gets you out in the fresh air together. Whether it's skiing, hiking or skating, Ian and I always have a rad time full of laughs and silly moments.