What up, folks? I'm back again with some PL spreads. I must admit, I'm not totally sold on week four. I think it could use some tweaking, but for the moment, this is what I'm rocking. The chevron print card on the top left was my birthday card from
Lisa
back in October. I had it sitting on my craft table since then and thought, rather than having it lying around, it would be awesome to incorporate it into my book. And, now I'm happy with how it turned out. (Lisa, I hope you approve of my use of your paper crafting skills.)
Anyway, week four was a week of crafting. I made my first-ever pair of slippers and an e-reader case. And, I also went to an awesome beer and cheese event and Ian took the amazing karaoke photo. I'm still in mad love with that one. Ian articulated it so well. It blows my mind just how hilarious and perfect it is.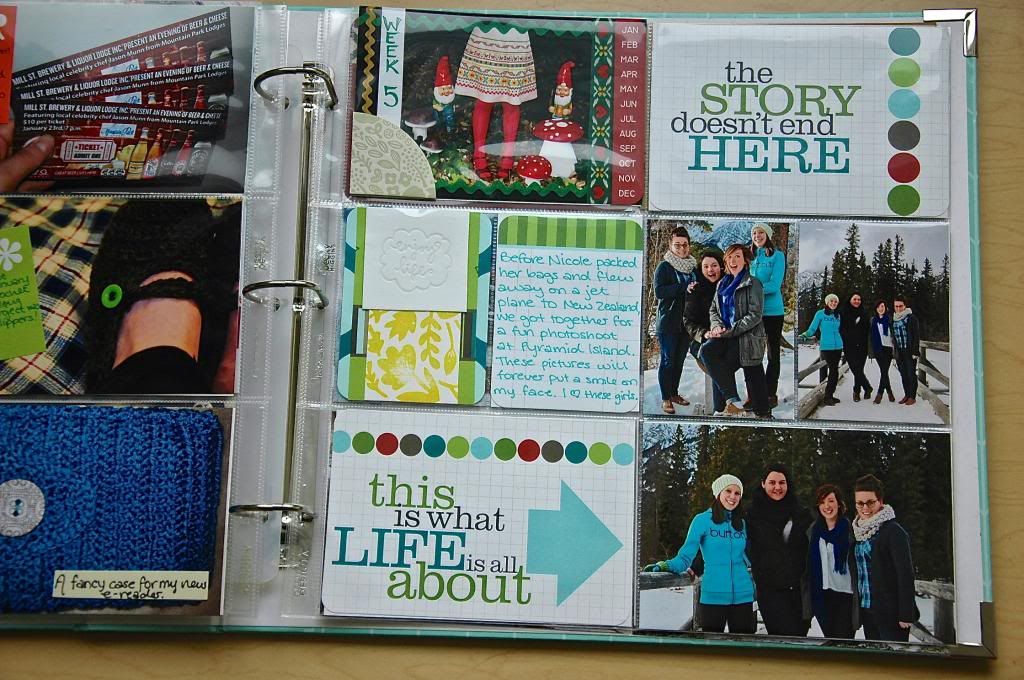 Week five was a week of preparing to say goodbye to my pals Nicole and Amy. If you've been around awhile, you'll likely remember these photos. We took them so we would all have a keepsake to remember our good times together. This page is pretty basic. I didn't do much. I just made the small card on the middle left to fill the hole and the rest was pre-packaged stuff from my core kit.
The remainder of week five was devoted to my third canyon visit. Ian and I are planning yet another trip into the canyon sometime in the near future. I can't wait to see how it's changed yet again.
Week six carries over onto the next page. For this half, I stuck with photos from our skating and curling date at Pyramid Lake. I really like how my homemade journal card turned out for this spread. I think my pal Mel from
Needle and Nest
would be really proud of me for getting out some doilies for this one.
Here's the second half of week six. I really like the week marker I made for this page. It's simple and understated, while also kind of sweet because of the round piece of floral paper.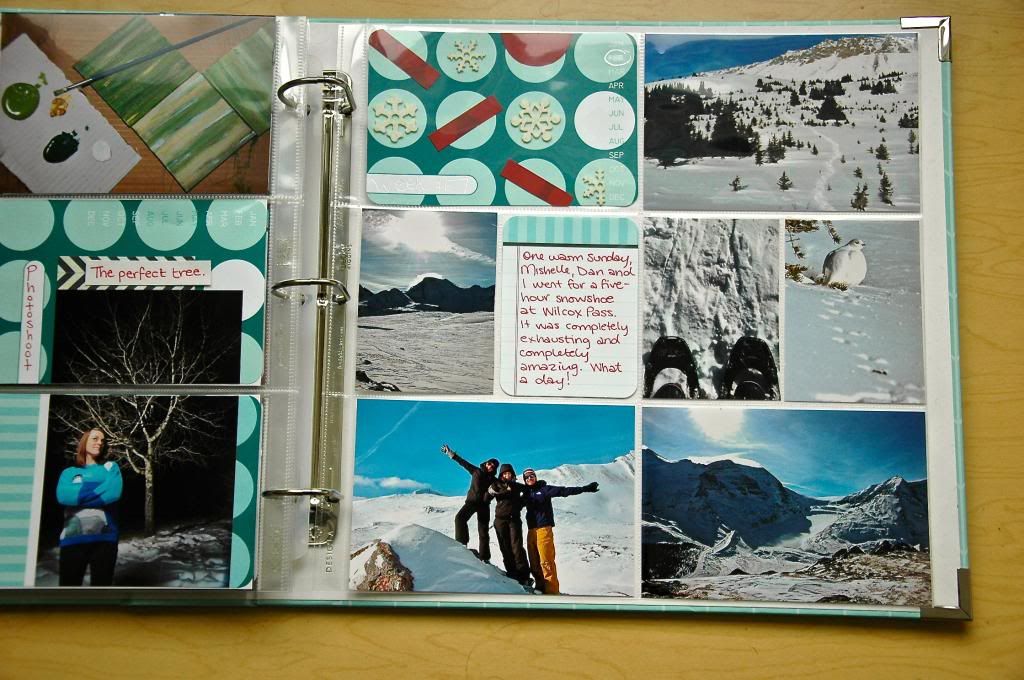 Finally, this is week seven. I kept it simple on this one, only including photos from my big snowshoe adventure. I did that for two reasons. One, I really enjoyed that adventure and liked the pictures that resulted from the day, and two, because I hadn't taken any other photos that week because I hadn't anticipated becoming a Project Lifer.
I'm excited now that I'm in the PL mindset, because I'm making the time to pull out my cellphone or camera a little more often. And, I'm also keeping in mind the little things that I'd like to include in my spread.
While cleaning my craft station earlier this week, I found tons of scrap paper, cards and things that will make my next spread even more fun to make. I really want to stray a bit more from my core kit. I made an effort to spruce the cards up a bit, but I think it would be nice to make more of the journaling cards from scratch.
Have you been doing any paper crafting lately? What kind of projects are you working on?